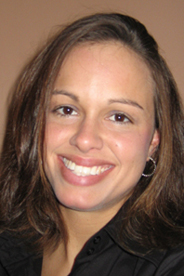 With a double major in film and media arts and multimedia design, Lindsay Webster (BA '03) seizes every opportunity SOC has to offer to rise fast and far in her field. "Just because you're not in LA doesn't mean you can't build the skills you would need in LA," says. And she proves it, honing her craft in internships at NBC's Dateline and ABC's Good Morning America before heading to the West Coast to assist Bones executive producer Barry Josephson on the Fox lot.
Danielle Gelber, Showtime's senior vice president for original programming and SOC alumna, becomes Webster's mentor and helps her win an entry-level job with The L Word, the drama that breaks the mold for tackling inequality, politics and women's rights.
Before long, Webster's promoted to associate producer, while producing an online documentary series on homeless gay youth for OurChart.com and Girl 27, a documentary about Hollywood in the 1930s that earns a spot at the 2007 Sundance Film Festival.