Communications
SOC Alumna Carol Wright Pens Her Own Story After AU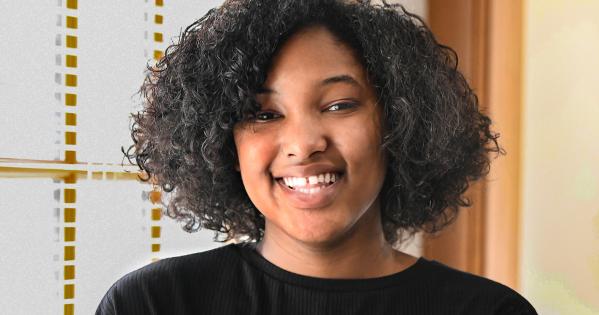 Not long ago, you might have seen Carol Wright around the School of Communication. She is a recent graduate with a rich academic career behind her, studded with her involvement in PRSSA as website director, service as an SOC ambassador, membership with the AU Photo Collective, and more. A member of the Class of 2020, Wright was part of the cohort of students who spent the last of their undergraduate collegiate time in quarantine due to COVID-19. When asked how she would describe the post-graduate journey into professional life, amidst a pandemic, she summed it up in one word:  "whirlwind." In a similar fashion as many other recent SOC graduates, Wright has made impressive strides as a communication professional, as the editor-in-chief and founder of her own magazine, Nyota, and a soon-to-be graduate student at the prestigious Harvard Business School. 
Wright founded Nyota, a magazine that shines a light on up-and-coming stars in music, fashion and culture when she was a senior in high school. The five-year-old publication, with its compelling visuals, regularly displays the images of popular stars on its covers. However, at Nyota's inception, it's newly-minted editor-in-chief embraced humble beginnings, with her own sister acting as creative director. As a high school senior passionate about photography, Wright was inspired by magazines like Teen Vogue, and by seeing her peers on Instagram developing their professional brands as content creators. Social media was her window into a world in which a young person was able to shoot for reputable brands and "be taken seriously as a photographer." Wright had already been dreaming of having her photos featured on glossy magazine covers, and the realization that she could have access to the editorial world as a young person got her gears turning. "How do I build a portfolio?" she pondered. "How do I even get started? Like, what's the point before even being taken seriously enough to shoot for a brand? How do I even get good enough to get to that point?" After sitting with these questions and surveying her interests in magazines and photography, she settled on building her own publication as the perfect medium to best express herself and catalogue her work.  
Looking back, the alumna realizes that creating an entire online magazine "wasn't a necessary" step to growing as a photographer, but over time, her interest in the journalistic aspects of running Nyota overshadowed her initial drive to build a photography career. "I've definitely started to like different aspects of making the magazine," she shared. "To me it's more about doing the interviews and finding the talent who should be on everyone's radar, and working with other young writers and creatives, putting out these issues that are really fun to work on, and building relationships with publicists." 
Wright managed Nyota, which borrows its name from the Swahili word for "star," faithfully throughout a rigorous four years of college. Balancing a full course load and her editor-in-chief duties, was undoubtably difficult, and she admits she "[doesn't] know if [she] ever really did" strike the perfect balance; nonetheless, the consistent hard work paid off. As a result of the magazine's growing reputation and the alumna's ability to nurture her relationships with publicists, she and her staff have gained opportunities to work with big names in the entertainment industry. By issue eight, she was traveling to California to photograph and interview Disney Channel actress Skai Jackson. To date, Nyota has featured stars like Marsai Martin ("Black-Ish"), Ariana Greenblatt ("Avengers: Infinity War"), and Asante Blackk ("When They See Us").  
It's important to Wright that Nyota focuses on raising awareness about worthy artists who might not otherwise get the opportunity to share and promote their work. "I feel like you, in a way, have to balance sort of making everyone happy," said Wright when discussing the balancing act of focusing on Nyota's brand goals with the desires of the talent she features on the covers. "You want to make their team happy because they're the talent, but you also want to make sure that the vision you had for the magazine is still happening." When she was just getting started, she wanted her magazine to differ from other entertainment publications that generally only publish individuals who are trending. "I just wanted to have a magazine where people who are usually not looked at as much actually have the opportunity to be on the cover and have their voices heard," said Wright. 
While she was already no stranger to balancing major commitments with the demands of running a magazine, Wright highlights SOC's culture of balancing coursework, community engagement, and experiential learning as  key components that led to her sense of preparedness for the professional world. "I think a lot of AU kids are much more ahead of the game when they get out of school because AU is pretty big on internships, and getting in clubs, and getting those work experiences," she stated. "You're used to balancing all these things." Wright also reflects gratefully on the professional grooming she received in her courses and campus extracurriculars. As a former journalism major, she values the understanding she gained in that field. While she did not study public relations, she learned a lot through her involvement in AU's chapter of the Public Relations Student Society of America (PRSSA), which ended up benefiting her in her current job in strategic communication. "I feel like, right now, because I am working at a PR company, those things have come in handy so much because I have an understanding of journalism and writing and doing things that have to have a quick deadline, but also [require] paying attention to detail," said Wright.  
The recent graduate currently works full-time as a strategic communications assistant at the Lede Company a powerful public relations firm in the entertainment industry. There, she enjoys gathering information for press and conducting research for clients, which she considers "really fun." She plans to work there for two years before heading to Harvard University to earn her MBA for two years. One of the high points of her post-graduate experience has been her acceptance into Harvard Business School's (HBS) 2+2 program, which is comprised of two or more years of professional work followed by enrollment at HBS's master program. "I never once thought, okay I'm going to Harvard," expressed Wright, but she definitely envisioned herself pursuing a business degree. "I realized, I have the magazine and I've been running my own business for years." Her desire to build her business acumen and potentially take Nyota to the next level have informed her decision pursue a more advanced degree.  
She knew HBS was the home for her after attending the HBS Summer Venture in Management Program (SVMP) and the experience "totally changed [her] frame of mind" the summer before her senior year at AU.  By essentially experiencing life as an MBA student for a week, she was stimulated by the classroom discourse and was able to envision herself taking classes there full-time. The program was also a perfect fit given her desire to defer enrollment to graduate school in order to work for a few years. "To me, [the program] really seemed like the best of both worlds, because I was hesitant," she admitted. "I knew I still wanted to work before I went to grad school, and just knowing myself, I wanted a break in-between going to school and going back." Wright is excitedly anticipating going back to school in two years, communing from her new classmates, and learning from her professors. 
As an entrepreneur, editor-in-chief, and PR professional, Wright has picked up a lot of wisdom regarding how best to navigate the communication field as a Black woman. When asked about her top advice for young women seeking to pursue a profession in the communication industry, she emphasized the necessity of recognizing, nurturing, and leaning on one's supportive network. "What I think sometimes we don't realize is actually, you probably have way more people in your corner than you would think," she said. "When it comes to getting that internship or getting that job or even just seeking advice." Wright can attest to the power of having people wanting to see her succeed and subsequently advocating for her in meaningful ways. She points to her current job as an example, in which someone who "believed in" her helped her get an opportunity. She encourages recent graduates to not only "put in the extra work," but to also have the courage to ask for help, rather than assuming a person with resources will be unwilling or too unfamiliar with them. Lastly, know that your presence and your perspective is valuable. "You know, Black women are needed in communications and are needed in all of these areas," she expressed. "You don't see as many Black women, sometimes, in these spaces."