Faculty Success Story
Prof Teaches Backpack Journalism from Afghanistan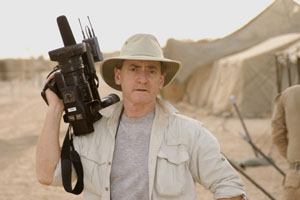 Bill Gentile knows how to pack light, having worked on the front lines of America's war in Afghanistan, embodying the definition of a backpack journalist. He carried a seven-pound Sony EX-1 high definition video camera, memory cards on which to store 20 hours of footage, and a MacBook Pro laptop.
"The whole backpack journalism thing is about one guy with one camera on one story going out there and getting a more intimate and more immediate form of visual communication than can a team of people with a camera person and sound person and producer and correspondent. That's the old model," he said.
Gentile was in Afghanistan on assignment for PBS's Now, but he also used the trip to teach five students in a SOC distance learning course. "The whole idea was to have my students learn through my experience out in the field."
One of them, Maura Ugarte, dreams of becoming a foreign correspondent herself.
"The way professor Gentile set up the course allowed students to create a map of resources for the country they wish to cover," she said. "I'm hoping to make a documentary film about immigration in Spain, and I was having a hard time figuring out how to start. At the end of the course I had a proposal with an accurate budget, a clear story line, contacts I made abroad, and a well-rounded compilation of research on the history and current context of the issue."
A pioneer in the field of backpack journalism, Gentile seems to have cracked the code: NOW named his Afghanistan documentary one of its best shows of 2008 and nominated it for an Emmy.
To Gentile, it's a matter of adapting to a changing industry. "The Afghanistan piece, in particular, is a prime example of how the "backpack journalism" model is revolutionizing the field of visual communication on television and on the Internet," he says. "Few media outlets are willing or able these days to invest the time, money and muscle to send a team of journalists to distant corners of the earth to generate quality content."
Gentile has earned Emmy nominations for his work in Afghanistan as well as for Now's "Nurses Needed." He has also completed assignments for The Learning Channel, Discovery Channel, National Geographic Television, ABC's Nightline With Ted Koppel, Court TV and Lion TV.