Alumni Success Story
Levinson Says AU Opened Door to His Career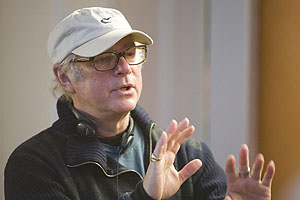 Prolific director, screenwriter, and producer Barry Levinson '67 has won an Academy Award and critical respect for work that is complex, intelligent and engaging.  
His most recent award is the 2010 Laurel Award for Screen, which honors lifetime achievement in outstanding motion picture writing. Levinson received the award from the Writer's Guild of America in February.
"From Diner to Avalon, Rain Man to Tin Men, filmmaker Barry Levinson has long demonstrated a wonderful ability to create memorable movies that resonate with audiences by capturing a particular time and place," said WGAW President John Wells in a press release.

His 1988 classic, Rain Man, brought the realities of adult autism to the big screen, and earned him an Oscar for best director. His comedy writing for The Carol Burnett Show won two Emmys. And his direction of Robin Williams in Good Morning, Vietnam touched, entertained, and educated millions. As Levinson told one critic, "I'm always looking to see how to embellish the moment." Watch video

Levinson is interested in politics and doesn't shy from controversy.  You Don't Know Jack, an HBO film starring Al Pacino about physician and euthanasia advocate Jack Kevorkian, received great reviews. His documentary PoliWood, shot at the 2008 Democratic and Republican national conventions, looks at "the intersection of people in the creative community and the political world," he notes. Watch video

AU students share at least part of that interest--the Princeton Review named the school the most politically active campus in the country during 2006 and 2008. And Levinson returned to the university in 2004 for a special screening and conversation about his political satire, Wag the Dog, during SOC's Political Comedy Festival.

Levinson credits his success, in part, to the guidance he found at SOC. "If artistic aptitude isn't nurtured," he says, "it doesn't know what to do. You need some kind of mentor, some guidance. The fact that one professor at American University had enough interest in me led me to working in a practical situation. That opportunity opened the door."

Levinson has tried to open doors for today's students, serving since 2003 as a member of the Dean's Advisory Council and participating in the school's Alumni Mentoring Program. He holds an honorary doctorate from AU for his work in film and television.