Alumni Success Story
Journalism Grad Boosts Latin American Reporters' Digital Skills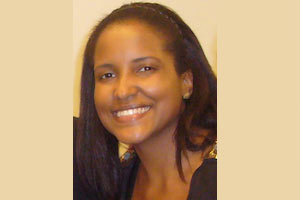 The Journalism and Public Affairs Master's program at SOC has always taken an innovative approach to journalism, and some of its stars, like Claritza Jimenez, MA '10, are using their education to a forge new career paths.
Now a Program Officer at the International Center for Journalists, Jimenez works on developing programs for Latin American reporters, helping to shape and implement projects that are aimed at increasing media literacy and accessibility in the new media environment.
"One thing I'm really excited about is a program that's designed to teach Spanish-speaking journalists digital media skills," Jimenez said. "Unlike in the mainstream media, in Spanish-language media it's a lot more challenging to get access to learn these skills."
A large portion of her work builds on her experience in the field and in her education at SOC, Jimenez said. She added that the learning process, whether formal or informal, should never really end.
Some ask, "Why should I go back to journalism school when I'm already in the business?" Jimenez said. "What people need to keep in mind is that the news business has changed so much and so drastically in the last few years and just continues to change."
Jimenez brought a wealth of experience to her work at SOC. Prior to enrolling in the year-long MA program, she worked in Dallas, Texas as a producer for the local CBS station. But, she said, she was looking for an opportunity to delve into investigative journalism, and in her research, she found the Center for Public Integrity fellowship at SOC.
"Quite honestly, I never had the intention to go back to school so soon, I wanted to stay in the business a little bit longer," Jimenez said. "But this opportunity for the fellowship came up, and I just couldn't turn down the opportunity to apply."
Jimenez was one of two students awarded the fellowship at CPI, a nonprofit investigative news organization founded by SOC professor Chuck Lewis. Her work, including a series on how college campuses in the United States handle sexual assault and abuse cases, gave her a new perspective on how reporting is executed, she said.
"CPI is still one of the few places in the US where they do old-school investigative journalism," Jimenez said. "I was exposed to a whole new level of journalism."
Jimenez appreciated that the SOC program combined practical reporting and multimedia skills. Facility with digital and social media not only improves your resume, but the value of your work, she said.
"You can always learn a new way to tell a story," Jimenez said. "It was totally worth it for me."
After earning her MA, Jimenez taught journalism to high school students in Washington through Prime Movers Media, and went on to become a video journalist for AOL Latino. She said her range of experience was crucial to getting where she is at today.
"As I get to interact with so many journalists, the more I realize how curious we are—we're so persistent, we don't take no for an answer," Jimenez said. "It's made me realize I definitely chose the right path."