Alumni Profile
AMC Hit Series Rely on Alum Gold's Touch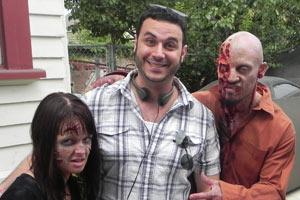 Jason Gold, SOC/BA '05, has a resume that reads like a list of TV's hottest series: Mad Men, Breaking Bad, The Walking Dead, The Killing and Hell on Wheels, which premieres November 6. Now Manager of Production at AMC, he credits American University School of Communication, and specifically the Summer in LA program and professor Russell Williams, with giving him a head start on his career and helping him start a professional network that he is still building on today.
Q: How did you ascend so quickly up the career ladder, landing as a network exec for some of today's hottest shows?
A: Like most things in this business, my career so far has been equal parts hard work, networking and luck. I moved out to LA right after graduation with nothing more than a summer internship under my belt and the handful of contacts I made during those internships. I was lucky enough to parlay those few relationships into a job extremely quickly, and then worked hard to stay and succeed at that job for the next year. I spent as much time as I could meeting with other people in the business and just networking as much as possible. It's through that personal network I created that I heard about future job openings. Between my network and my hard work to back me up as a potential employee, I was able to move into new roles and take on new challenges, all of which has led me to my current position at AMC.

Q: What skills did you take away from your time at SOC that have helped you in your career now?
A: SOC laid the foundation for my career and really gave me the knowledge base I needed to succeed in entertainment. I can't say enough about how important it is to learn from professors with experience in the business. For me that was Professor Laurie Scheer whom I first learned screenwriting from, and my mentor, Professor Russell Williams, whom I learned everything about the business from. I was taught the term "develop your graduating class," something I have lived by and that has really helped me along the way. It refers to networking with your peers, and that starts by meeting and developing a relationship when you're an intern with other interns. Because next thing you know, that whole group will become assistants at agencies, and then junior executives, and then producers and so on. All along the way you help each other out by sharing information, being critical of each other's work, and finding jobs for each other.

Q: I see your whole career began with your Summer in LA internship. Can you speak a little more about the importance and value of that program? Are there any contacts who were particularly helpful to you?
A: The Summer in LA program is truly a priceless experience that everyone who attends film school outside of the LA area needs to partake in. In addition to just the internships, which are themselves invaluable, getting to meet with prestigious AU alum in the entertainment business was a one of a kind experience. We met with Barry Josephson, Adam Goodman, Danielle Gelber, Keith Fleer, Robert Morton, Stu Smiley, Clark Woods, Holly Harter, Meg Deloatch, Adam Sher, Pierre Brogan, Lauren Schaffer and many others (a few of the students in the program that summer interned at some of their offices as well). My senior year I also got to hear Nancy Meyers speak via video conference in Professor Williams' Executive Suite class (which is another MUST for AU students pursuing a career in entertainment). I mean, look at those names, that's an insanely big time lineup right there. If you don't know who they are go check out IMDB. You'll be impressed and proud that they're all AU alumni. I still have my notes from those classes and I plan on hanging on to them for as long as I stay in this business, the info they contain is pure gold to someone like me. My closest friend in both the business and in life, is Samantha Covington (SOC/MA '04), my roommate from that summer program. In fact, I helped her get a job at Maverick Films where I was interning before heading back to DC for senior year, and when I moved to LA after graduation, it was she who got me the interview for what would become my first real job at the KSGB Agency. Thinking back on it, I don't know where I would be now if I did not have that summer in LA experience. I would not have gotten my start at interning until after graduation, which would have put me at a significant disadvantage among my peers from other schools who had spent time out there interning and were graduating ready for real paid jobs.
Q: It must be cool working on popular series like the The Walking Dead, Breaking Bad and Mad Men. Can you give me examples as to how you have worked with/helped with the success of those shows?
A: Haha, it is pretty cool. I started out at AMC in August 2008 as the production dept coordinator, and things were going really great. We had Mad Men airing its second season, Breaking Bad in production on its second season and a miniseries called The Prisoner was also in production. Then a month later was the Emmy awards and things changed overnight. We took home 6 Emmys for Mad Men, including best drama series, and 2 Emmys for Breaking Bad, including best least actor in a drama (Bryan Cranston). Cut to three years later, we're about to premiere our sixth original series, and we're so incredibly fortunate that all five shows so far have received all of this amazing acclaim and awards. It really is quite amazing. The Walking Dead was really the first show that I worked on from the very beginning, and it was the most challenging from a production standpoint. It was the first time AMC was acting as both the studio and the network on a show, so all of a sudden my department was pulling double duty. It all happened very quickly- from greenlight to production start, to our big premiere on Halloween. The whole thing was ten months of nonstop work, but it was so worth it.
My position as Manager of Production has me working in all aspects of production. I work on schedules, budgets, post production, and, most importantly, I help coordinate all of the many assets we need as a network from the productions in order to launch a show. It's not just the current projects that I work on either. We have an amazing development department that scours the globe for great new projects. They recommend what they think are the most viable ones and my department then works on getting schedules and budgets done. I also do a lot of future planning and create schedule scenarios for future seasons of our shows, taking into account location, weather, writers weeks, talent agreements and so forth.
Q: What challenges do you find in your job today?
A: Television is an ever evolving business, and with the advent of online and mobile content, things have really skyrocketed over the past few years. Not only do we have to produce the shows themselves, but now we find ourselves producing all sorts of things to go with it: behind the scenes content, mobile content, webisodes, online chats, exclusive comic-con trailers, and all other kinds of new media. We have marketing people who maintain our facebook pages and twitter trends, a very busy digital dept who creates much of that new media content, and a whole department dedicated to sponsorship and integration. I also travel quite a bit, which isn't just all fun like my friends think, but is actually necessary for my job. Just like networking with people at other companies is an important part of survival in the business, relationships with the producers, studios execs, and talent from our own shows is just as important for me to do my job. To that end, visiting our producers and talent on set in Atlanta, New Mexico, etc. and at events in LA is an important part of my job as a representative from the network. It's so much easier to get things done with someone in another state when you have a relationship with them.
Q: What advice do you have for students who want to work in the entertainment industry?
A: Get out there and don't be afraid of anything. The sooner you get out to Hollywood, or New York, or Vancouver or wherever, the better off you'll be. Don't think you're too good to intern for free, and know when to shut up. There's nothing worse than an annoying film student who thinks they know more than you. You need to earn your stripes. We've all done it and expect you to do the same. That said, don't quit! Quitting is for quitters! I've seen a lot of people in my short career drop out of the business because they just couldn't take it. Create a network of peers to lean on. Stick to your goals, grow some thick skin and stay on the path.