Student Success Story
Barbie Takes on DC Dating Scene in "Happy Hour" Series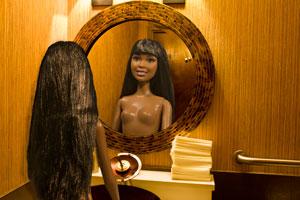 The Hillyer Art Space displayed four photographs from SOC student Autumn Moran's "Barbie Happy Hour" Fine Art Photo final project last month.
The photographs are part of a series she made compositing photographs of Barbies into the DC dating scene. View the series
Professor Leena Jayaswal said what makes the series so strong is the attention to detail that Moran used. "Autumn's talent and skills shown in this project," she said. "She shot the Barbies and then the bar scenes separately and then combined them in Photoshop, playing with scale, lighting and perspective. They actually feel like these are life size women." Jayaswal added the fact that the Barbies are naked really go with Moran's theme of what it feels like to be a single woman in the bar scene.
We sat down with Moran shortly before the show and asked her some questions about her photo project.
Q: How did you come up with the concept for Barbie Happy Hour?
A: To start it all off, I was at happy hour one day and was waiting for a friend and watching people. I noticed a guy suck in his stomach, and then there was a girl checking herself out in the mirror. I started thinking about the theater that goes into dating; we never present who we are in a happy hour/public/early dating situation. And really I think that if we (as a general society) keep ourselves to who we are, we would avoid so much headache and heartache. It seems as though when people break up with someone, they always say that they 'changed and wasn't the person you fell in love with', but actually it is the same person you fell in love with, they just stopped trying to impress you and became their true selves.
Q: What is the significance of the dolls being photographed nude?
A: I guess the significance of why they are nude is just that; wouldn't things be so much simpler if we just stripped down (emotionally and physically) so you would know what you were getting when you met that person at a bar? I originally wanted to do these photos using real models in bars but due to time and legal constraints it became unrealistic. Barbies were my back up plan but I actually think they accomplish the point I wanted to make more clearly than if I had used models. The shiny plastic veneer they have (and the somewhat vacant stare) I think represents us trying to be someone we think someone else will find attractive.
Q: How does it feel to have four of your photos selected for exhibition at the Hillyer?
A: I am very flattered to have multiple pieces in the show, and it was really interesting to me, which pieces they chose out of the series. I am really excited to see what the other artists have done and how it all works together if we are talking about similar issues or what they are drawn to.
Q: Do you want to do more work like Barbie Happy Hour in the future?
A: I think how people relate to each other and how they perceive themselves has always intrigued me, and probably won't stop intriguing me. What we do, compared to what we want to achieve are sometimes so at odds with each other. I definitely want to pursue this concept in the future and am addressing it in a slightly more "internal struggle"-oriented fashion in my thesis film, An Unplanned Descent To The Ground, which I am currently finishing up.
I would also love to actually re-do these shots with real people at some point along the lines of my original plan and see how that changes and/or adds to the context.