Alumni Success Story
SOC Alumna Joins Kaiser Family Foundation, Films PSA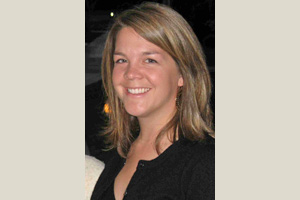 Caroline Herter
MA, Public Communication '07
When Caroline Herter landed a job at Kaiser Family Foundation after earning her MA in Public Communication, she was excited. When she flew to LA to film her first public service announcement, she was amazed.
But it wasn't the glitz of Hollywood that had her so thrilled. Just two years before, Herter had been deciding where to do her grad work, and whether to seek a career as a school counselor or get her masters in communication. "I knew that I was passionate about working with young people and addressing the difficult issues that they deal with on a daily basis," she says. "My argument for going into communications was that maybe, someday, I would be able to reach more young people on a broader level."
Herter wrote her thesis on media literacy with the guidance of  SOC Professor Kathryn Montgomery, founder of the Center for Media Education, and interned in corporate communications at National Public Radio. She's glad she chose the path she did. "Not only do I learn so much on a day to day basis, but I am also very aware of how I apply the skills that I learned in SOC classrooms to my work."
Even better, her work affects millions of young people. One month after starting at Kaiser Family Foundation, Herter was sent to LA to represent the foundation on a shoot for the Pause public service campaign, a collaboration between Kaiser and Fox.
Months later, that Pause PSA aired during the premiere of American Idol--reaching millions of young people at one time.  "Literally, at that moment," Herter says, "my dream came true."