Alumni Profile
Casey Pallenik: Learning on the Job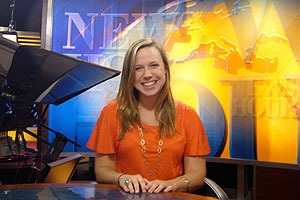 When I first came to American University, I had no idea what I wanted to study, let alone what I wanted to do professionally. Originally, I thought of going into international relations and being a diplomat, but one photography course stopped me in my tracks. I began pursuing a Film and Media Arts degree in the School of Communication and eventually picked up a minor in Marketing from Kogod School of Business.
SOC professor Chris Palmer and SOC alumnus Michael Cascio '73 helped me land an internship with National Geographic Channel in its  development and acquisitions department. One of my jobs was to sort through the slush pile of unsolicited show pitches, promos, and pilots to find future programming. Searching for a needle in the haystack taught me how to spot pitches that had an important message as well as strong public appeal and, being National Geographic, amazing visuals. I was also responsible for compiling weekly Nielson ratings and researching possible program subjects, which I then pitched in development meetings.
I loved working for a television channel and the creativity that went into programming, but I wanted to see what working for a nightly television news show was like. After I graduated in December 2008, I began working as a desk assistant at  The NewsHour with Jim Lehrer,  on PBS. Currently, I am lucky enough to do everything from conducting follow-up interviews with young people who appeared on correspondent Judy Woodruff's Generation Next series to chasing down finance ministers for correspondent Ray Suarez on the steps of the International Monetary Fund. The pace of working for a nightly news program, while daunting at times, is always exciting, and I still haven't gotten tired of seeing my name on television when the credits roll!