2020 ELI Leads Scholarship Recipients
The faculty and staff of American University's Institute for Innovation in Education and the EdD in Education Policy and Leadership Program are proud to announce the 2020 recipients of the ELI Leads scholarship.
These dedicated educators received a full scholarship to the EdD in Education Policy and Leadership Program, a three-year, online education doctorate program. Within they EdD, they will focus on early literacy intervention and special education. They will complete an internship experience in partnership with DC Public Schools and will commit to serving in DC schools for six years upon completion of the EdD program. Learn more about the 2020 Leads below.
Shareen Cruz Mgr. of Elementary ELA, Curriculum & Professional Development, DC Public Schools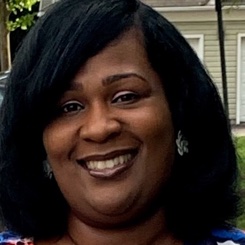 In DCPS, Ms. Cruz regularly collaborates to curate and design quality professional learning experiences and curricular materials for teachers and leaders. Additionally, she is a direct support for a cluster of dynamic schools. In that role, she plans for critical needs related to ELA instruction, professional development, and assessment. Ms. Cruz has a BA in Human Development from Binghamton University and a MS. Ed in Elementary Education from Mercy College. She is also trained as a Reading Recovery teacher. 
Her aim for the program is to cultivate an enduring network of collaborators and true preparedness for the work ahead. She says, "This work isn't easy. It'll take knowledge, along with grit and connectedness to others, along with passion and commitment to equity in order to 'level the field'. She hopes to begin building that network, here, at American University. She also hopes that the carefully selected learning experiences will fully prepare her to engage at high levels with educational policy makers and literacy researcher stakeholders.
Kenneth Jebra' Neat, Jr. Early Childhood Teacher / Teacher Leader DC Public Schools
Mr. Neat is a dedicated early childhood educator, teacher leader, and lifelong learner. He has a B.A. in Child Development from Claflin University Organgeburg, SC.; an M.S. in Early Childhood Education from Wheelock College in Boston, M.A.; a Certificate of Advanced Graduate Studies (C.A.G.S.) in Teacher Leadership from Wheelock College; and has an Education Specialist (Ed.S.)degree in Special Education from The George Washington, University in Washington, DC.
His aim for the program is to develop the skill-set, knowledge, and research to enact change in the nation's public school system. His goal is to forge professional relationships with educators from around the globe that will support the work around education and social justice. He says, "I see myself being able to lead as a superintendent and teach as a published college professor."
Rebecca 'Becky' Nolin Teacher Leadership Innovation (TLI) Teacher Leader, DC Public Schools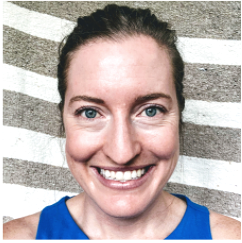 As a TLI Teacher Leader at Harriet Tubman Elementary School, Ms. Nolin leads two cohorts of a total of 16 kindergarten and first grade teachers in all subject areas. She supports these teachers in planning and providing weekly professional development, observation and feedback cycles, co-planning and curriculum development, and data-collection and analysis. She also provides reading intervention support to first grade students. She has a B.A. in Political Science from Davidson College and an M.A.T. from American University's School of Education.
Ms. Nolin aims to empower teachers with the professional development and supportive systems that result in excellent literacy outcomes for all DC Public School students. She believes that American's EdD program is expert at building leaders' practical skills, its instructional choices are based on research, and it is committed to disrupting the persistent legacy of racism and inequity in DC schools. She says, "This is a team I want to be on."
Jasmine Rogers Special Education Teacher-Resource Inclusion Teacher (K-5), DC Public Schools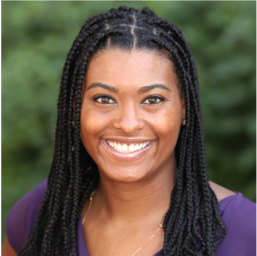 Ms. Rogers is a dedicated special education teacher who is committed to supporting and uplifting the voices of those who have been historically marginalized. She has a B.S. in Management/Marketing and an M.S. in Sport Administration from Delaware State University. She earned an M.Ed. in Special Education and an M.Ed. in Elementary Education from Lesley University.

Ms. Rogers hopes to gain skills that will empower her to become a better leader and continue to challenge her colleagues as well herself. One of her ultimate goals is to prepare teachers to be anti-racist educators. She explains, "early in my career as an educator there were many instances that I could sense something was wrong and didn't have the words to express that feeling." She wants to equip others with the language and strategy needed to dismantle the system that is currently broken and influence change for an inclusive education experience for all students.
ELI Leads Program Details
ELI Leads Scholars will follow the course sequence for the online EdD program, with one exception. ELI Leads Scholars will take, as their elective, the Science of Reading for School and Systems Leaders.
This course provides an overview of reading science, including models of reading, typical reading development, instructional approaches, assessment, and identification of reading disabilities. The course prepares school and systems leaders to make evidence-based decisions regarding early screening, technology, curricula, RTI processes, and data collection and analysis.
ELI Leads Scholars Receive:
Tuition Assistance: ELI Leads Scholars receive discounted tuition provided by American University and stipends provided by the US Department of Education covering all tuition costs and fees.
Opportunity to intern in the DC central office. The 210-hour internship in the final year of the program will be related to early literacy. The internship can be completed during the summer or the school year.
Mentored supervision during the internship with American University clinical faculty.
Funding to attend educational research conferences and related professional development seminars.
ELI Leads Scholars Must:
Complete 40 credits, beyond a masters degree
Attend three, week-long residencies in Washington, DC. These residencies will be during normal working hours. Scholars will need to be available for the entirety of these week-long residencies.
Live in or be willing to relocate to Washington, DC by the third year of the program to complete the internship.
Commit to working in a high need DC school district for six years after the completion of the program (2 years for each year of the EdD program). This is a requirement stipulated by the US Department of Education. If accepted, you will be asked to sign a participant agreement, which indicates your committment to working in a high need school district in DC or be required to pay back scholarship funds.
ELI Leads applicants are required to meet the EdD admissions criteria. Please review the EdD program admissions page for details about the requirements. Please see below for an additional requirement for the statement of purpose for ELI Leads applicants.
Admission requirements include:
 
Official Transcripts

Three Letters of Recommendation

Resumé

Academic Writing Sample

(e.g., a published or unpublished paper) that demonstrates clear, logical, conceptual, and analytical thinking, as well as the proper use of citations and references.

Statement of Purpose
The ELI Leads program prepares scholars to be systems leaders in early literacy and special education. In addition to the EdD statement of purpose requirements, ELI Leads applicants must:
Describe both your previous experience and passion for improving early literacy outcomes.
Provide evidence of teaching and leadership roles in reading and/or special education, and offer specific examples of your approach to early reading.
Include evidence that demonstrates your commitment to inclusive education and evidence-based interventions.
Finally, describe your willingness to commit to six years of early literacy service in high-need LEAs in Washington, DC.  
Please take an additional 1000 words to complete the ELI Leads statement of purpose requirements.
The Admissions Committee carefully reviews each applicant's personal and professional experience to assess readiness for graduate study at American University. In order to ensure your success, candidates must provide the following to be considered for the program:
A Master's degree.
TOEFL (non-native English speakers)
International Students: International applicants are eligible to apply, provided they have successfully completed the equivalent of a US Master's degree, have the appropriate diplomas and/or satisfactory results on transcripts and meet additional ELP requirements. Please note that ELI Leads scholars and graduates will have a specific focus on literacy in DC schools.
EdD applicants may be invited to attend an interview with EdD program faculty and a group interview with follow applicants as part of the application process.
Are you ready to apply? Please visit our application portal to start your application. Need more information? Please visit the ELI Leads webpage, the EdD website or contact Anselm Beach, EdD Graduate Program Coordinator, for questions about the ELI Leads program. You can also request more information about the online EdD in Education Policy and Leadership from our EdD Admissions team.
Application Deadline: January 29, 2021
Our Supporters and Partners
Thank you to our partner, DC Public Schools, for their collaboration and support of the ELI Leads Scholars. The Scholars will be placed in internships in DCPS headquarters within offices such as the Office of Teaching and Learning.