ITEP Global Education Forum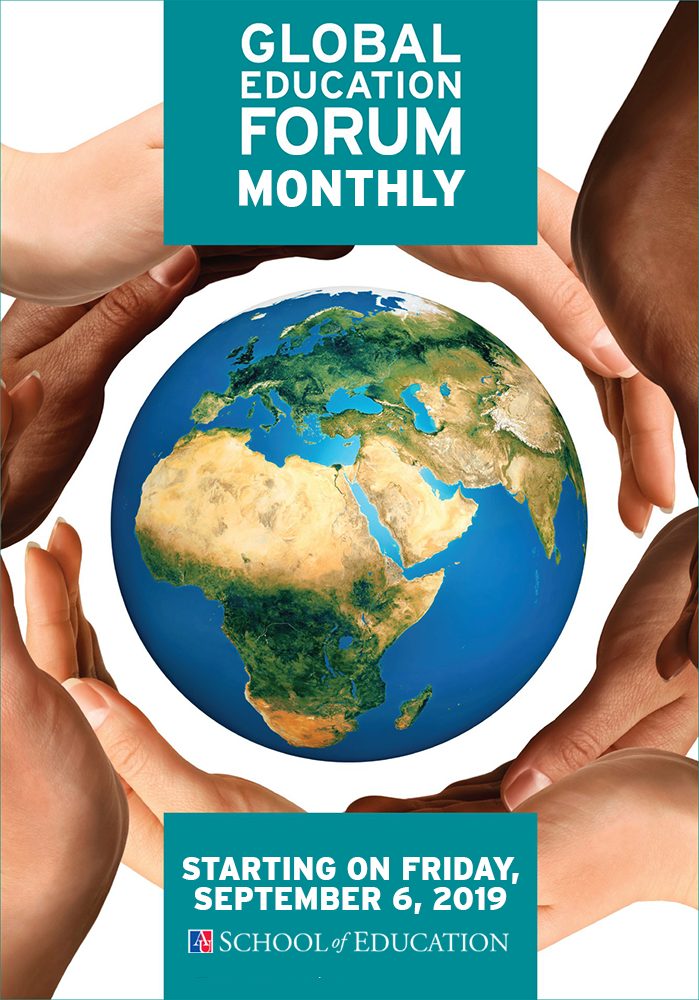 The International Training and Education Program (ITEP) Global Education Forum has two aims. First, it focuses on identifying the most pressing issues in education globally, as reported by renowned experts from academia, public policy, government and the non-profit sector across the globe. Second, it examines whether and how undergraduate and graduate student education and training should change in order to prepare students to address these issues.
The GEF defines education broadly-including formal, informal, and experiential settings in schools and outside the classroom. It centers on traditional educational topics such as access, equity, and achievement, and also on education as it relates to such global concerns as public health, extremism, and the environment.

Here is the schedule for the Fall 2019 semester. We look forward to you joining our conversation!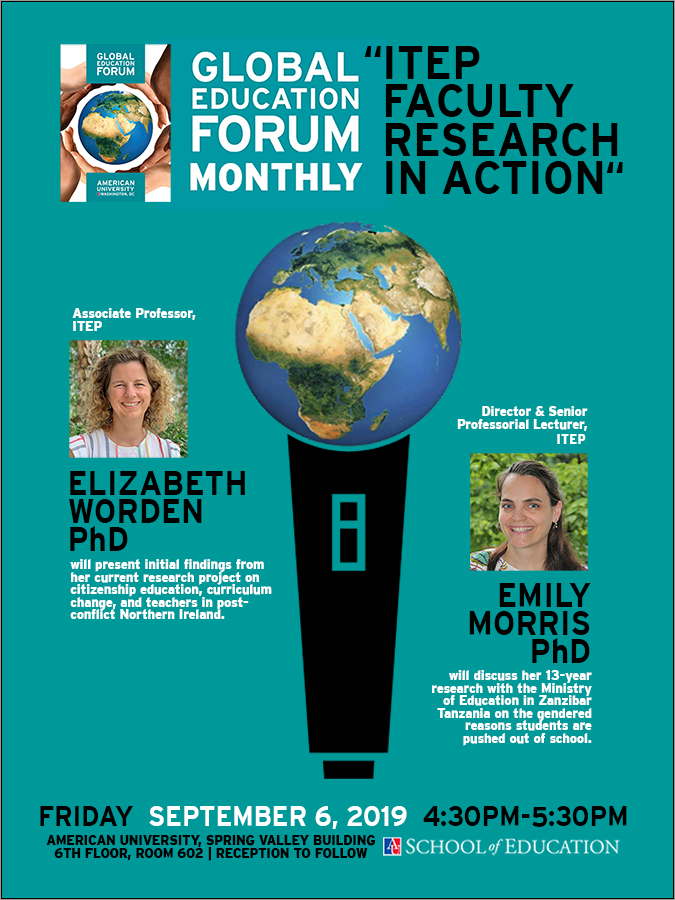 #1
"ITEP (international training & education program) Faculty Research in Action"
Date: Friday, September 6, 2019
Time: 4:30pm-5:30pm (Reception: 5:30pm-6:30pm)
Program: ITEP Associate Professor Elizabeth A. Worden, PhD will present initial findings from her current research project on citizenship education, curriculum change, and teachers in post-conflict Northern Ireland. In addition, ITEP Director Emily Morris, PhD will discuss her 13-year research study with the Ministry of Education and Vocational Training in Zanzibar, Tanzania on the gendered reasons students are pushed out of school.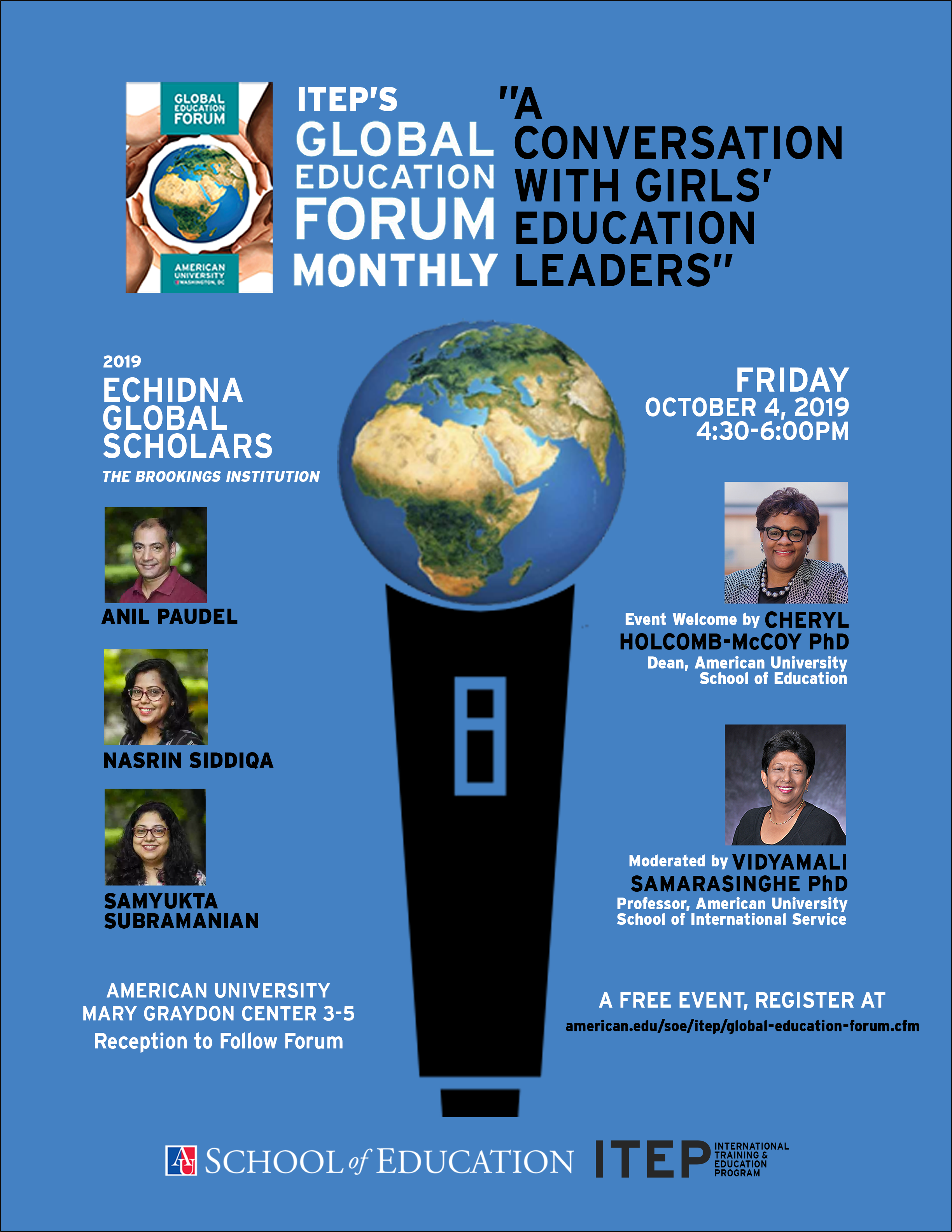 #2
"A Conversation With Girls' Education LEADERS"
Date: Friday, October 4, 2019
Time: 4:30pm-6:00pm (Reception: 6:00pm-7:00pm)
Program: ITEP  is honored to welcome the 2019 Echidna Global Scholars to present their research on gender sensitivity in early childhood in India, STEM education for rural girls in Bangladesh, and girls' transitions into the workforce in Nepal. The Echidna Global Scholars Program is hosted by the Center for Universal Education (CUE) at the Brookings Institution and aims to build the research and analytical skills of NGO leaders and academics working to further girls' education in the Global South. Please join this important conversation on quality education across a girl's lifetime! 
Welcome: Cheryl Holcomb-McCoy, PhD - Dean, American University School of Education
Moderator: Vidyamali Samarasinghe, PhD - Professor, American University School of International Service
Panelists: Echidna Global Scholars Anil Paudel, Nasrin Siddiqa, and Samyukta Subramanian
#3
"The Role of Education in Migration from the Northern Triangle"
Date: Friday, November 8, 2019
Time: 4:30pm-6:00pm
Program: The news is flooded with narratives on why young people are leaving the Northern Triangle for the US and how international policies have influenced their decisions to leave. Join a conversation on the role education has played in this migration. 
Panelists: Angela Gonzalez, DC Mayor's Office, Latino Affairs (formerly with Maryland Multicultural Youth Centers); Sonia Umanzor, Community Affairs Director, Embassy of El Salvador to Washington DC; and Rafael Flores, Communications Specialist, Polaris (and formerly Embassy of El Salvador)
Moderator: Dennis Stinchcomb, American University Center for Latin American and Latino Studies
Location:
American University
Founders' Room (Directions)
School of International Service (SIS)
4400 Massachusetts Avenue, NW
Washington, DC 20016
Registration
#4
"Advancing Education in Muslim Societies"
Date: Tuesday, November 19, 2019
Time: 5:30pm-7:00pm (Reception: 7:00pm-8:00pm)
Program: The International Institute of Islamic Thought (IIIT) and ITEP have partnered to examine education issues across Muslim communities. This study of over 25,000 participants from fifteen countries explores how secondary school and university students, parents, teachers, and administrators value skills such as empathy, forgiveness, moral reasoning, and community-mindedness. Publicly available for the first time, the research team will present the study's results and lead a discussion on the implications of this important exploration for advancing education in Muslim societies.
Panelists: Ahmed Alwani, PhD of IIIT; Ilham Nasser, PhD of IIIT; Cynthia Miller-Idriss, PhD, Professor, American University School of Education/ITEP; and Jehanzeb Cheema, PhD of George Mason University
Welcome: Corbin M. Campbell, PhD, Associate Dean of Academic Affairs, American University School of Education and Ahmed Alwani, PhD, Vice President of IIIT
Moderator: Elizabeth A. Worden, PhD, Associate Professor, School of Education/ITEP
Location:
American University
Constitutional Hall Room #3 (Directions)
3501 Nebraska Ave, NW
Washington, DC 20016
Registration
Live Stream Link for GEF #4: Advancing Education in Muslim Societies
The Global Education Forum Monthly is a free event.
GLOBAL EDUCATION FORUM MONTHLY
GLOBAL EDUCATION FORUM MONTHLY