Education
Meet New SETH Professor Dara Ford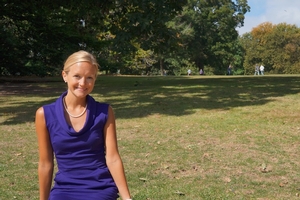 Dara Ford is a new professorial lecturer in the School of Education, Teaching & Health at American University
Degrees
RD in nutrition sciences, Penn State University

BS in nutrition sciences, Penn State University

PhD in nutritional sciences, Penn State University
Areas of Research
The impact of overall diet quality on health-related quality of life in aging individuals; improving diet quality through health promotion to prevent chronic disease.
What initially sparked your interest in education?
I have always been interested in working in academia. I started college as an English education major, and while I was determined that this was not the area in which I wanted to teach, my desire to teach remained. As an avid runner and food enthusiast, I took one nutrition course and fell in love. In earning my BS and PhD in Nutritional Sciences and becoming an RD, I realized that while continuing my research, my main desire was to teach and inspire future nutrition educators. Because everyone eats, everyone is personally vested in the field, and I love exploring content with students as they link together the science with the practice. 
What honed your interest to your specific areas of research?

My specific research focuses on the associations between diet quality and health-related quality of life, healthcare resource use, and mortality in older adults. I am interested in further researching the link between diet quality and health -related quality of life. Generally, we tend to focus so much on treatment of disease with medications. Evidence demonstrates that eating a generally healthy and balanced diet is associated with greater quality of life, which, in turn, improves life expectancy. I think there are many other implications for these relationships and believe that this area of study provides an opportunity to use positive messages to improve nutrition and overall behavior.
What brought you to AU?
I came to AU to be a part of an interdisciplinary team to educate future nutrition educators. So often nutrition occurs in a bubble, and, while that has its purpose, I believe in the importance of a collaborative environment where nutrition science can be translated for use by the general public. We can conduct endless research, but if it is not translated into an accessible form for the general public it remains relatively useless. Being a part of SETH provides the unique opportunity to continue with scientific research while emphasizing the importance of translation and education.
What are you hoping to accomplish at AU?
I'm hoping to utilize the collaborative environment of SETH to expand my research experience into more applied and interventional areas. SETH faculty are well versed in applicable research, and it is my goal to gain more experience while continuing to explore epidemiological relationships between diet and quality of life in the National Health and Nutrition Examination Survey (NHANES). I also want to realize and develop effective tools to encourage the best opportunities in both online and face-to-face learning.