Education
SOE Faculty Awarded $1.3M NSF Grant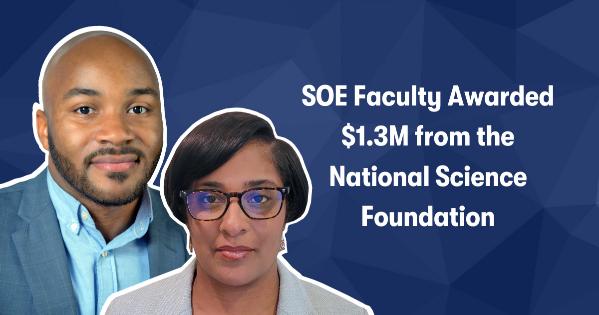 The collaborative received an $8.8 million, five-year grant from the National Science Foundation (NSF) to examine undergraduate Black students' postsecondary STEM experiences. The award is part of the highly competitive NSF Education and Human Resources Racial Equity initiative, which seeks to support bold, ground-breaking, and potentially transformative projects addressing systemic racism in STEM. Dr. Shari Earnest Watkins, Senior Research Fellow in the Center for Teaching, Research, and Learning, and Dr. Brian L. McGowan, Associate Professor in SOE and Associate Director of the Center for Teaching, Research and Learning, are founding members of CRRE, a scholar-activist network representing more than 10 institutions of higher education.
"As a science education researcher, I think it's important to understand the nuanced experiences within different groups of Black students to further understand the salient factors contributing to their persistence," said Watkins. "Black students in STEM are under-researched and underexamined. CRRE will contribute to building the body of knowledge around these students so that we can continue to improve support for them in STEM spaces."
The grant will allow Watkins, McGowan, and CRRE to develop new paradigms for higher education policy and pedagogy. Influenced by scholarship in Black Studies, the mixed method research project will probe nuanced conceptions of Blackness to develop more robust theories of racial, academic, and professional identity.
"This work is important to me." said McGowan, a higher education researcher. "I value co-constructed and collaborative spaces, which is the spirit of this grant. So often the Black experience is misrepresented or misunderstood, and oftentimes we are marginalized in educational spaces and beyond. We have an opportunity to do something unique that can help us advance the creation of policies and sociocultural practices in STEM that can improve the experiences of Black students."
The NSF award, titled "Collaborative Research: EHR Racial Equity: Examining Blackness in Postsecondary STEM Education through a Multidimensional-Multiplicative Lens" will establish participating institutions as thought leaders in international conversations about Black students' access to STEM knowledge, majors, and professions. Dr. Terrell Morton, Assistant Professor of Identity and Justice in STEM Education at the University of Illinois Chicago is the lead primary investigator on the grant. "This has the potential to be quite radical," he says. "Radical in that we are holding ourselves and the fields of study represented here accountable for a necessary rethinking of identity and institutional change." CRRE spent over a year developing the proposal and designing the research project.
In addition to Watkins, McGowan, and Morton, the research team consists of Dr. Andrea Tyler from Tennessee State University, Drs. Tia Madkins and Yasmiyn Irizarry from University of Texas at Austin, Dr. Nickolaus Ortiz from Georgia State University, Dr. Paula Groves Price from North Carolina A&T State University, Dr. Jennifer Adams from University of Calgary, Dr. Ashley Woodson from Albion College, as well as Dr. Whitney McCoy from Duke University and Dr. ReAnna Roby from Vanderbilt University.