Alumni
#SPA80for80: Andy MacCracken, SPA/BA '11 and SPA/MPA '14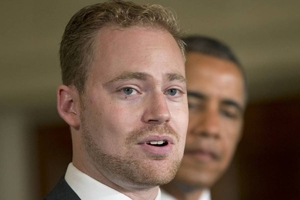 When President Barack Obama decided to move forward on executive actions to support federal student loan borrowers, he reached out to SPA alumnus Andy MacCracken.
MacCracken is no stranger to the loan debt issue. He's also a leader in the movement to enable students across the country to take control of campus issues—from college affordability to campus safety. Long on the White House radar as a voice for student empowerment, MacCracken was invited last June to provide an introduction for the president's remarks on easing student loan payments.
"Right now, I'm surrounded by new graduates who want to improve the world around us – as teachers, public servants, and, like me, as non-profit leaders," MacCracken wrote in a personal letter on the White House blog. "The action this President is taking is helping to make sure finances aren't holding us back from achieving our potential."
MacCracken graduated with a BA in 2011 and an MPA in 2014, both from SPA.
After serving as AU's student government president, he partnered with a friend to develop the National Campus Leadership Council (NCLC), a program seeking to empower student leaders to influence public discourse. Within six months of developing the idea, NCLC hosted its first National Leadership Summit that brought together 100 student body presidents to discuss tangible paths forward on college affordability, campus safety, youth jobs, and environmental sustainability. Today, NCLC coordinates more than 450 study body presidents representing over 6.5 million students at colleges around the country. NCLC is currently leading campus outreach for the White House's "It's On Us" initiative to end campus sexual assault.
MacCracken honed his skills as a leader, and developed the toolkit necessary to lead NCLC during his studies at SPA. In addition to leading the student government, he was a teaching assistant for the SPA Leadership Program and worked under Professors James Thurber and Candy Nelson at the Center for Congressional and Presidential Studies as assistant director for the Campaign Management Institute (CMI).
"I developed a lot of NCLC from my desk in CCPS," said MacCracken. "It shouldn't be much of a surprise that a lot of the principles and strategies I learned from SPA Leadership, CMI, and PAAI are deeply embedded into NCLC's work."
Long before he was introducing President Obama, MacCracken took the stage at AU as a member of the all-male a cappella choir, On a Sensual Note. If politics is theater, there was certainly no better place to start for the future leader.
#MySPAHistory
"My classes in SPA were great, but it was the people that helped me grow outside of the classroom. We are a community of world-class minds and roll-up-your-sleeves-to-get-something-done leaders—something our national officials should emulate."