On Campus
Anna Greenberg, CCPS Research Fellow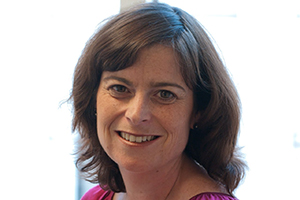 What can social media and polling tell us about potential voter turnout and election results? Few people know better than Anna Greenberg.
Greenberg is a Democratic pollster and research fellow at AU School of Public Affairs' Center for Congressional and Presidential Studies. She joined GQRR in 2001, after teaching public opinion and survey research methodology at Harvard University.
Greenberg was the lead pollster in many successful campaigns, including for Mayor Bill de Blasio, Governor Mark Dayton, State Senator Wendy Davis, former Congresswoman Gabrielle Giffords, Congressman Pete Gallego, and Congresswoman Michelle Lujan Grisham.
In 2014, Greenberg won the "Pollster of the Year" award from the AAPC for her work with Bill de Blasio's campaign for mayor of New York City. De Blasio trailed badly in early polls, but avoided a run-off election in the Democratic primary by winning 40.3 percent of the vote on election night; just over the 40 percent required to win outright. In the general election, de Blasio won with over 73 percent of the vote and is the first Democrat elected to lead New York City in 20 years.
"It was an honor to work with the mayor and the campaign, which aggressively took on the issue of inequality and made a commitment to make a change in the lives of New Yorkers," said Greenberg.
Greenberg works with a wide range of NGOs on issues ranging from women's health to LGBT rights to attitudes about religion to reducing gun violence to reforming drug laws. She heads GQR Digital and is a leader in the growing field of data analytics and micro-targeting, measuring the impact of social media on public opinion and using social media to move voters, consumers, and activists.
Greenberg has appeared on CBS' Face the Nation, NPR's All Things Considered and Morning Edition, and BBC's World News America. She regularly provides commentary on politics to publications including the New York Times, Washington Post, and Politico.
#MySPAHistory
"SPA has given me an excellent opportunity to engage with DC's academic community on issues critical to democratic governance and to interact with the students most interested in current public policy issues."