On Campus
#SPA80for80: Professor Bill Davies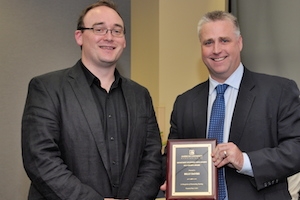 When Professor Bill Davies joined the School of Public Affairs in 2007, he brought new perspective to examining the practice of law.
Davies approaches the study of the European Union legal system by critically examining the development of the constitutional practice of law in the EU from a historical perspective.
Davies, a native of the UK, keep strong ties with his home continent through his scholarship. During a four-month sabbatical in 2013, he traversed Europe, interviewing judges and diplomats, and poring over legal documents in Britain's National Archive. He also finished his first book, Resisting the European Court of Justice: West Germany's Confrontation with European Law 1949-1979.
His research often focuses on a niche subject for American audiences: The transnational legal structures of the European Union. During his recent trip, however, he acquainted himself with other experts in that field.
"Meeting people in the same scenario and doing the same research you are is invigorating and exciting and refreshing — you just can't replicate that," says Davies. "I'm one of only a very few people in the United States doing this kind of research."
His teaching also resonates for students at SPA. Davies earned the Outstanding Teacher award. Prior to earning that award, Davies led an honors colloquium called "The Politics of Human Rights." Students built grassroots campaigns on topics including reproductive rights and digital privacy.
Davies was impressed by the work exhibited by the class. "Students found it challenging, but you can see from the results, it was worthwhile to them."
Davies completed his doctoral research at King's College in London, where he focused on European studies. His work has been published in numerous journals, including the Journal of European Integration History, and he has presented at multiple international conferences.
#MySPAHistory
SPA has become my home away from home: a place to turn for support, full of good colleagues and where there is a drive to make your work and your thinking better.