On Campus
#SPA80for80: Professor Bill LeoGrande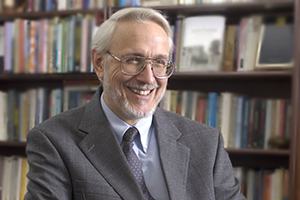 In 2011, with his tenure as SPA dean coming to an end, Bill LeoGrande planned a year-long sabbatical that would be the culmination of a multi-year research project on U.S. relations with Cuba.
This October, his research resulted in a new book coauthored with National Security Archive analyst Peter Kornbluh, Back Channel to Cuba: The Hidden History of Negotiations between Washington and Havana. The book details the fifty-year clandestine history of diplomatic dialogue between the United States and Cuba. 
"From President Dwight D. Eisenhower to the present, every president has found some reason to negotiate with Cuba. We felt like this was a story that needed to be told," LeoGrande explained.
LeoGrande's interest in Latin American affairs stretches back to his early academic studies and years teaching at Hamilton College. He came to AU in 1978, hoping to impact not only the field of Latin American studies, but also U.S. policy toward the region. "For someone interested in foreign policy-making, the opportunity to come to Washington was too good to pass up," he said.
He served as acting dean of SPA for two years in the 1990's before returning to the office in 2003 after then-provost Neil Kerwin asked him to serve a second time.
Between 2003 and 2012, LeoGrande led a strategic push to strengthen ties and maintain the school's sterling reputation for producing excellent research. His major initiatives and accomplishments included reducing teaching loads, and increasing SPA faculty by roughly a third; allocating seed capital to the now prestigious Women & Politics Institute; creating the Washington Institute for Public and International Affairs Research (WIPAR); establishing new certificate programs and joint degrees, including the master's in public communication with the School of Communications; heightening fundraising to support students and faculty, which increased endowed scholarships six-fold; and carefully cultivating relationships with graduates by remaining true to his role as a teacher and scholar.
AU President Neil Kerwin praised his friend and colleague, "During his time as dean…the school maintained strong enrollments and enhanced its visibility, reputation, and stature."
#MySPAHistory
"In the years I've been at AU, we've gone from being a good university to a great one, competing for the best faculty and the best students in the nation and beyond. Our faculty are winning prestigious awards for their research and our students are competing successfully for the most competitive scholarships and fellowships. SPA has played a leading role in these achievements, and continues to be recognized as one of the top schools of public affairs in the United States."