On Campus
#SPA80for80: Carlos Vera, SPA/BA '15 and SPA/MPA '16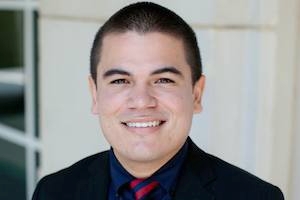 After graduating from the School of Public Affairs, Carlos Vera hopes to give back.
When he was six years old, truckloads of machinegun-clad Revolutionary Armed Forces of Colombia (FARC) rebels took over the town of Caicedonia where Carlos was staying. This incident and other violent occurrences across the country forced his family to leave and migrate to United States for a better life.
When asked about was going through his head during the takeover of the town he says, "I wanted to scream, you never know what they're going to do."
Their family moved to California. After a couple of years of living comfortably, mounting medical bills from his mother's sickness forced his family to move in with an aunt in San Bernardino's public housing. Nine people crammed together in a three-bedroom apartment, where Vera slept on the floor near a closet. For some time, the family relied on food stamps.
Years later, Vera was the first in his family to attend college. He landed a place at AU with enough financial support to make it work—a chance to change his life.
He certainly seized every opportunity that has come his way. Still, Vera realized he had two problems: finances and internships. As a permanent resident, but not a citizen on the U.S., he was missing out on a lot of opportunities on Capitol Hill and in other government organizations. His solution: Join the Army Reserves.
"I already had a sense that I wanted to help others, but it was through the military that I learned what selfless service is," he said. "The military taught me to just do your part. You may not be the one at the front doing the shiny stuff, but just help."
Now, in his little spare time, he works with first-generation students and AU's growing veteran population to help translate military experiences into attractive, civilian resumes.
"The way I see it, I'm paying it forward. I was given opportunities to come here, and I want to give back," he said.
With his new citizenship in hand, he's found even greater opportunities. During his junior year, he secured AU funding as well as the prestigious Gilman Scholarship, both of which allowed him to spend a semester interning with the European Parliament in Brussels through AU's European Union in Action Program.
And he landed that internship he had hoped for, serving in the White House's Executive Office of the President this fall.
#MySPAHistory
"There's always going to be someone at SPA willing to reach out, help you out. Honestly, I don't think I'd be here at this moment without AU and these opportunities," he said. "For that, I'm forever in debt and grateful."