Alumni
#SPA80for80: Connie Morella, SPA/MA '67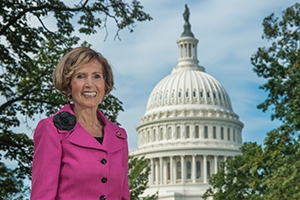 Connie Morella was driven to public service by the struggle for equal rights. What started as an interest in the Women's Movement in the late 1960s has continued through to her work at the School of Public Affairs today.
While representing Maryland's 8th district in the U.S. Congress for 16 years, Morella successfully initiated legislation addressing domestic violence and child support, as well as programs for the elderly, environmental protection, health care reform, and human rights issues.
"I loved Congress. It was a privilege to be able to serve," she told the Washington Post in 2011.
She was later appointed as U.S. ambassador to the Organisation for Economic Co-operation and Development (OECD) in Paris, where she served from 2003 to 2007. In 2013, Germany honored her with its highest honor, the Knight Commander's Cross of the Order of Merit, for putting "considerable energy and enthusiasm into growing [the] Congressional Study Group on Germany." The Republic of Italy also awarded her the Medal of the Legion of Merit.
Today, she serves as ambassador-in-residence at the School of Public Affairs and teaches a course on Women in Politics. She works closely with the Women and Politics Institute, sharing her experience advancing women's rights.
The Morella family maintains strong connections with American University. Morella's husband, Anthony, is WCL Professor Emeritus and AU General Counsel Emeritus, and two of their children are graduates of AU. Connie was also awarded the degree of Honorary Doctor of Public Service from AU in January 1989.
#MySPAHistory
"I am energized and proud of the School of Public Affairs: its objectives, faculty, and student opportunities. What better location than here in the nation's capital to inspire and motivate our future leaders to engage in public service!"