On Campus
#SPA80for80: Professor David Rosenbloom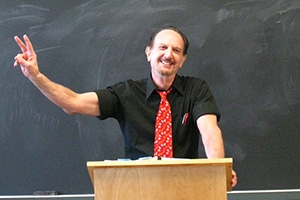 Public affairs programs around the world look to Professor David Rosenbloom's scholarship as a core facet in the study of public administration and policy.
He is widely known and cited by researchers and academics for developing an understanding of public administration in three perspectives that mirror the constitutional separation of powers: politics, management, and law.
Rosenbloom earned his PhD in political science from the University of Chicago in 1969. Since then he has taught in universities around the world, from Kansas to Syracuse, Tel Aviv to Vermont, as well as at Hebrew University in Israel, Renmin University in Beijing, and City University of Hong Kong. He came to the School of Public Affairs (SPA) in 1990 and continues to serve as a distinguished professor of public administration.
The impact of Rosenbloom's academic work has earned him a myriad of honors. A few of his standout awards include the Gaus Award for Exemplary Scholarship in the Joint Tradition of Political Science and Public Administration; the Waldo Award for Outstanding Contributions to the Literature and Leadership of Public Administration; the National Academy of Public Administration Brownlow Award; the Mosher Award for Best Article by an Academician; and the NASPAA Whittington Award for Excellence in Teaching.
Outside of the classroom, Rosenbloom has testified before U.S. Senate Committees and served on the Clinton-Gore Presidential Transition Team. He has provided his skills and expertise to the editorial boards of more than 20 academic journals. He served as editor-in-chief of Public Administration Review from 1991 to 1996, and in 2011, he became editor-in-chief of the CRC/Taylor & Francis Series in Public Administration and Public Policy.
In 2014, two of his most renowned works, Administrative Law for Public Managers and the coauthored Public Administration: Understanding Management, Politics, and Law in the Public Sector, were published in second and eighth editions, respectively. A third book, originally his PhD dissertation and first published in 1971, Federal Service and the Constitution: The Development of the Public Employment Relationship second edition, was published in July, resulting in a 1,000-page public administration trilogy for Rosenbloom in 2014.
#MySPAHistory
"I have benefited greatly from AU's scholar teacher model, which provides students and faculty with almost unlimited possibilities for intellectual and professional growth."