Alumni
#SPA80for80: Davonta Ellis, SPA/BA '14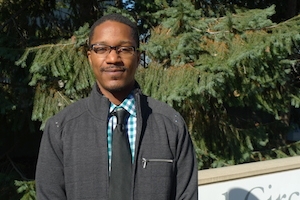 Davonta Ellis found his passion in an unexpected place – the Montgomery County Jail.
During a field trip in his first year at the School of Public Affairs, Ellis spoke with an inmate in a good behavior program whose parole officer wouldn't give him a chance to reduce his 11-month sentence.
"I thought it was really disheartening that he wasn't able to get a hearing," Ellis describes. "Seeing how offenders and defendants are treated in the justice system really inspired me from that experience."
Ellis has worked closely with several faculty members at SPA to develop his final project examining what he considers the "back end of sentencing" – the extent to which extra-legal factors affect sentencing outcomes for departures from sentencing guidelines. In his research, Ellis acknowledges that sentencing disparities exist, but he wants to understand better where they may occur in the sentencing process and when they might or might not be affected by extra-legal factors such as race, gender, and age.
This spring, he'll be looking to get his empirical research and statistical analysis of sentencing disparities published after he graduates in December. He is also waiting to hear from law schools and PhD programs at Yale, Columbia, the University of Chicago, and, of course, AU.
"All of these schools are small and committed to teaching and service. They embody what I love about AU," he says.
Ellis currently works full-time as a construction worker in Fort Washington, Maryland, which means he commutes two hours each way for his classes at SPA. He knows the sacrifice will be worth it, because he "knew this was the right school for me." In fact, he wasn't accepted to SPA when he first applied, so he attended Liberty University for a year and then transferred. "I was determined to get back," Ellis says.
There's no telling where that sense of purpose will take him, but Ellis hopes to work on the policy side "to determine where we need reforms in sentencing and where we can use more structure."
#MySPAHistory
"The School of Public Affairs was a perfect fit for me. The small-knit community, good liberal arts, and emphasis on service and scholarship really spoke to me. It's important to find something you're passionate about and to learn a lot about it to contribute to that field—SPA gave me that opportunity."