On Campus
#SPA80for80: Derek Hyra, Director, Metropolitan Policy Center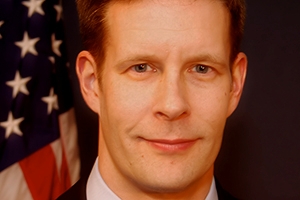 When Derek Hyra was in high school, he aspired to play big-time basketball. A sharp-shooting point guard who made varsity as a freshman, he impressed opponents and audiences with his ability to score and throw precision passes. 
One of his coaches, noting his talent and ambition, advised him to venture out of the New York suburbs to hone his skills on New York City's fabled asphalt playgrounds. He played in the Rucker League on 155th Street in Harlem, long considered the holiest ground of playground basketball where NBA stars Julius "Dr. J" Erving, Kareem Abdul-Jabbar and Kevin Durant have played. 
While Hyra didn't go on to play at a premiere Division I school, the experience would profoundly shape his career and research interests. Harlem, like many cities in the late 1980s and early 1990s, had been devastated by an epidemic of drugs, gangs and crime. On and off the court, he would learn about race in America from his teammates who lived in Harlem and the Bronx. 
After graduating from Colgate University, he went on to obtain a Ph.D. from the University of Chicago and dedicated his research to the political and social dynamics of inner-city redevelopment. He is the author of The New Urban Renewal: The Economic Transformation of Harlem and Bronzeville, and in a forthcoming book investigates the redevelopment of the Shaw/U Street neighborhood in Washington, D.C. He was an Obama appointee to the U.S. Small Business Administration's Council on Underserved Communities.
In his recent article, "The Back-to-the-City Movement: Neighbourhood Redevelopment and Processes of Political and Cultural Displacement," published in the journal Urban Studies, he investigates the social implications of inner-city revitalization in Washington, D.C. Hyra argues that as upper-income whites move in, low-income residents lose political power, and iconic cultural landmarks, such as black churches, eventually give way to bike lanes and dog parks.
"It's great that we have more inclusive, mixed-income neighborhoods, but when you really get into these racially diverse, redeveloping communities, there is micro-segregation, racial power imbalances and social tensions," said Hyra, who recently joined SPA as associate professor and director of SPA's Metropolitan Policy Center. "These challenges are still the defining urban issues of our time.
#MySPAHistory
"I am excited to be joining such a well-regarded school of public affairs. The faculty and students are incredibly motivated to change the world and make it a better place. I am really looking forward to advancing the school's reputation by making it known as a hub of innovative metropolitan and urban research."