Alumni
#SPA80for80: Emily Beyer, SPA/BA '11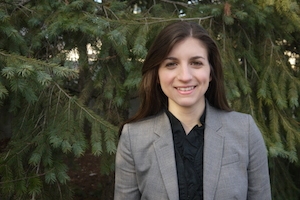 As the deputy press secretary for the Department of the Interior, Emily Beyer has learned how to react quickly in Washington.
Beyer deals closely with Interior Secretary Sally Jewell and her interactions with media and reporters. She also assists the secretary at public events in the DC area and helps with major announcements and public rollouts from the secretary and the department.
Recently, she coordinated for the second time with other cabinet-level agencies ahead of the White House Tribal Nations Conference.
Shortly after graduating, she joined the Obama for America campaign in Chicago serving as an assistant to digital leadership. Among other assignments, Beyer assisted in the management of digital activity and rapid response during presidential and vice presidential debates.
"The way campaigns run is always evolving," Beyer said, "but 2012 was a particularly exciting time to see how things like Twitter, Facebook, responsive web design, and mobile technology (some of which looked radically different in 2008, or didn't exist at all) were being used by the two presidential campaigns and the people they were trying to reach."
She earned her degree in communications, legal institutions, economics and government from the School of Public Affairs. She was also a part of SPA's Leadership Program.
"Professor Margaret Marr, director of the SPA Leadership program, really challenged me and demanded more of me as a student and a person, in a way that I didn't fully appreciate until I left AU. She also makes it very clear how deeply she cares for her students."
#MySPAHistory
"The environment of SPA is a unique one. Even on the campaign, I was hard pressed to find a bigger group of passionate political nerds. Debating my peers in class, in the dorms, or on the quad, especially those on the other side of the spectrum—those are the memories I fall back on whenever I hear people say that no one in DC cares about real people."