Alumni
#SPA80for80: Eric Eikenberg, SPA/BA '98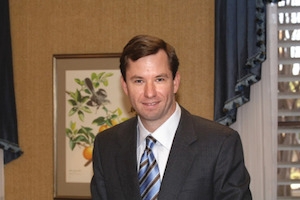 Eric Eikenberg can't understate the importance of the world around him.
As chief executive officer of the Everglades Foundation, Eikenberg fights with a fervor often reserved for lobbyists and political operatives. For those that know him, this is no surprise.
Long before heading the prolific environmental organization, he was playing baseball around the edges of the vast watershed. His high school alma mater, Marjory Stoneman Douglas High, was named after the prominent environmental folk hero and author of the influential book, The Everglades: River of Grass. 
When Eikenberg began his studies at AU, however, he was more interested in the lure of politics than the mire of environmentalism. In four years of undergraduate studies, he completed five internships—ranging from work at the Heritage Foundation think tank; to serving as a page at the Republican convention in San Diego in 1996; and even interning in the office of House Majority Leader Dick Armey.
Immediately following his graduation in 1998, Eikenberg returned to Florida to manage a state legislative campaign of a dear friend. That previous winter break, Eikenberg gained many of the skills necessary to run a political campaign when he took Profs. James Thurber and Candy Nelson's intensive two-week course, the Campaign Management Institute. 
"All the consultants, all those experts came in during a condensed, intense period of time to explain the nuts and bolts of campaigning," says Eikenberg. "Being able to carry that out six months later in an actual state legislative race was exciting." 
In 2000, Eikenberg ran another campaign for U.S. Rep. Clay Shaw, a man he would later serve as chief of staff until the Congressman's departure from Congress in 2006. In 2012, after a stint as a federal and state lobbyist, hedge fund billionaire Paul Tudor Jones tapped him to lead the nonprofit Everglades Foundation. 
Jones praised Eikenberg from the outset. "He has a deep understanding of what it takes to achieve success both in Washington and Tallahassee and he has the leadership skills that will help the Foundation continue to be at the forefront of Everglades restoration."
For one well-versed in the high-octane sport of politics, environmentalism has brought on a new set of challenges. Rehabilitation efforts are often hindered in bureaucratic delay and inaction. Restoration of the Everglades is no exception, especially since it carries the largest price tag of any environmental project in history. Eikenberg, however, knows the stakes of this battle, and is prepared to fight for it.
"Water is the new oil. The minute you lose control of it, you're finished."
#MySPAHistory
"I often look back fondly on my time at AU. The belief that public service is an admirable profession was solidified during my course work in the School of Public Affairs. The knowledge gained, inspired me to experience first hand public policy and politics through multiple Capitol Hill internships during my four, memorable years at AU."