On Campus
#SPA80for80: Professor Howard McCurdy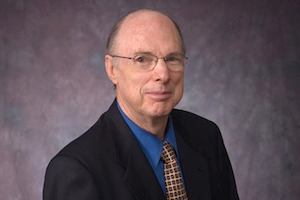 In his forty-plus year history at SPA, Professor Howard McCurdy has covered it all – teaching and conducting research in public management, organization theory, science policy, and financial management. But perhaps most interesting is his focus on space policy – helping to build a powerful bond between the last frontier and the policies that govern it.
McCurdy first paired his expertise in public administration and policy with the studies of space policy in the late 1980s when he began researching the history of the decision to build the International Space Station. Since that time, he has published numerous articles, books, and monographs relating to space exploration and the National Aeronautics and Space Administration (NASA). His most celebrated books during that period include: Space and the American Imagination; Robots in Space: Technology, Evolution, and Interplanetary Travel; Faster, Better, Cheaper; and Inside NASA, which won the 1994 Henry Adams prize for the best history on the federal government.
Throughout his research, McCurdy has studied the noticeable arc that extends from human space activities to the technological advances that fuel modern economies.
"Advances in (automated technology) occurred much more rapidly, and advances in human flight technology occurred much more slowly," he wrote for his book, Robots in Space. "The tortoise—the robot—is making steady progress, while the hare, the human space flight program, has paused for a nap."
Beyond his scholarly work, McCurdy has provided extensive public policy consultations to media outlets. He has provided analysis in interviews with Voice of America, NPR, BBC Radio, C-SPAN, the New York Times, the Washington Post, and many others.
In one C-SPAN lecture celebrating NASA's first 50 years, McCurdy used lessons from the space program's history to help envision its continuing success. "Be curious," he repeated to the audience, "be curious about alternative management methods that can be used to accomplish the great goals of the future."
#MySPAHistory
"My time at SPA has given me great opportunities to study fascinating public policies and the methods for managing them—and translate the results into findings that practitioners can use. I've never found a better place to do this sort of work than SPA."