On Campus
#SPA80for80: James Thurber, Director of CCPS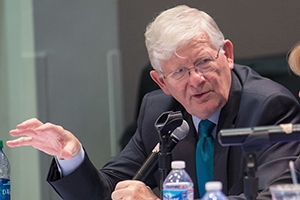 Since joining the School of Public Affairs in 1974, James Thurber's impact on governmental research has been profound and far-reaching.
As the author of numerous books and over 80 scholarly articles on U.S. politics, Thurber has become the go-to academician for those interested in lobbying reform and ethics. He frequently provides commentary on the Today Show, Good Morning America, CNN, CBS, ABC, NBC, BBC, National Public Radio and C-SPAN.
In 1979, he was honored as a distinguished professor of government, the same year he founded the Center for Congressional and Presidential Studies (CCPS) at the School of Public Affairs. In his invitation to visitors of CCPS, Thurber states, "Through our institutes, weekend workshops, and research projects, we have trained hundreds of people for successful participation in the political process, be it running campaigns or influencing policy."
Through the European Public Affairs and Advocacy Institute (EPAAI), an off-shoot of the stateside Public Affairs and Advocacy Institute, Thurber directs students in the art and craft of lobbying in the European Union. "By the end of the trip students gained a vast knowledge of the procedures and approaches to lobbying the European Union," said EPAAI participant Stephen Calabria in a video journal documenting the institute.
He was the principal investigator of a seven-year grant from The Pew Charitable Trusts to study campaign conduct, a four-year study of lobbying and ethics for the Committee for Economic Development and is working with The Organization for Economic Co-operation and Development (OECD-Paris) on international lobbying and ethics reform.
In 1996, Thurber was honored with the University Scholar/Teacher of the Year Award. He has earned many other accolades, including the Mark O. Hatfield Public Policy Scholar of the Year award in 2013 from Portland State University; the Walter Beach Pi Sigma Alpha American Political Science Association award for his work combining applied and academic research; the SPA award for Outstanding Scholarship, Research, and Professional Contributions.
Outside of SPA, Thurber aided four reorganization efforts for U.S. House and Senate committees, and appears frequently before congressional committees on lobbying and ethics reform. He is a Fellow of the National Academy of Public Administration and a member of the American Bar Association's Task Force on Lobbying Law Reform. He has lectured at over 80 universities throughout the world, including Oxford University, Harvard University, Essex University, and the University of California at Berkeley.
#MySPAHistory
"I take great joy in watching the success of our SPA graduates in campaigns, elected office, advocacy, in Congress and state legislatures, in the White House and in state and local government and politics, as well as in academia."