Alumni
#SPA80for80: Jennifer Fernandez, SPA/MPP '15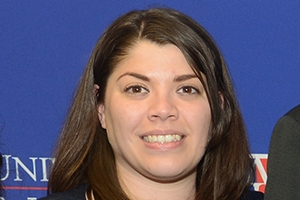 Named for Bill Reilly, former EPA Administrator and one of the nation's most prominent environmental leaders, the William K. Reilly Fund for Environmental Governance and Leadership supports core programming for SPA's Environmental Policy Center, as well as scholarships that help students like Jennifer Fernandez prepare to take on complex environmental challenges.
Fernandez, a Reilly Scholar in 2014, was particularly struck by the way Reilly emphasized the importance of overcoming political differences when recounting his experience co-chairing the bipartisan commission on the BP Deepwater Horizon oil spill with Democrat Bob Graham. "Everyone's got to work together," Fernandez reiterated, "and now more than ever, that's a message that people need to hear."
Fernandez came to environmental policy through a side door. A political science major as an undergraduate at the University of San Francisco, she developed a passion for affordable housing, writing her senior thesis on housing and gentrification, and beginning her career at Local Initiative Support Corporation (LISC).
When she chose to attend graduate school at the School of Public Affairs, she decided to pursue environmental policy, but maintain a focus on housing issues. While doing just that in the Master of Public Policy (MPP) program, she also combined her unique skill set while working on green initiatives for a housing and community development organization called NeighborWorks, serving a one-year term through AmeriCorps VISTA.
The MPP program has given Fernandez the broader perspective on policymaking she desired to help her take her career to the next level. She singled out her course with Center for Environmental Policy director Daniel Fiorino as one that has introduced her to planning issues that she would not see from the developer side. "I see everything put into action in that class—taking it a step back and how it comes to fruition."
Fernandez is grateful to have more financial support after a fulfilling yet draining term as a VISTA corps member. Her year of service paid off in the form of a new job—she was recently hired as an analyst for AARP, a position that seems to suit her passion for effecting change from behind the scenes.
#MySPAHistory
"You're making the world a better place in a way that I think is very unsung. I think I really picked the right program at SPA. I have great professors—every one of them has been magnificent. It definitely reinforced my future career plans."