On Campus
#SPA80for80: Jennifer Lawless, Director, Women & Politics Institute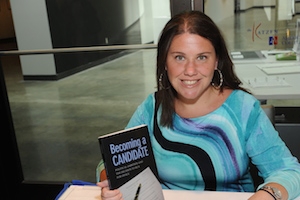 As director of the Women & Politics Institute at the School of Public Affairs, Jennifer Lawless has a burning question that drives her research: Why are there so few women in positions of political power?
Despite a number of success stories and high profile female political leaders, the U.S. ranks 100th worldwide in the percentage of women serving in the national legislature. And the gap extends from Capitol Hill to City Hall. Only one quarter of statewide elected officials and state legislators are women. Only five out of 50 states have female governors. And only 13 out of the largest 100 cities in the U.S. have a female mayor. 
Lawless' research, which has been supported by the National Science Foundation, suggests that one of the reasons for women's under-representation is a gender gap in political ambition –a gap that is already well in place by the time women and men begin their professional careers.
Her most recent article, published in the American Political Science Review, finds that young women are less likely than young men to express interest in running for office, to receive the suggestion to run for office, or to think they will be qualified to run for office, even after they are established in their careers. Based on a survey of more than 4,000 high school and college students, Lawless' results paint a bleak picture for prospects of gender parity in the future. But they provide direction, too. More exposure to politics and increased encouragement to run for office would go a long way in closing the gender gap in political ambition.
Lawless, who is also a non-resident Senior Fellow at the Brookings Institution, is a nationally recognized speaker on women and electoral politics, and her scholarly analysis and political commentary have been quoted in numerous newspapers, magazines, television news programs, and radio shows. In 2006, she ran for the Democratic nomination for the U.S. House of Representatives in Rhode Island's second congressional district.
#MySPAHistory
"I came to Washington to help close the gender gap in political leadership. And we do just that. We conduct research to enhance our understanding of women's experiences in the political arena. We offer the academic and leadership training young women need to succeed in politics. And we call attention to gender dynamics in the political process on a daily basis. My work at the School of Public Affairs has allowed me to focus on my passion, and every day, I'm grateful for that opportunity."