Alumni
#SPA80for80: Congressman Jim McGovern, CAS/BA '81 & SPA/MPA '84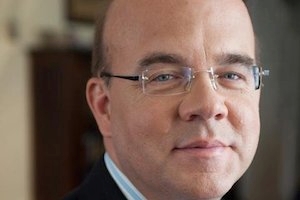 Congressman Jim McGovern (D - MA) got his introduction to politics while at AU's School of Public Affairs. Today he is a champion for progressive causes in the U.S. House of Representatives.
A native of Worcester, Mass., McGovern chose SPA because of his interest in politics, government, and history in addition to its premiere location. "I thought D.C. would be a good place to go to school," he remarks. "For me, it was a great fit."
McGovern was a proven leader while at AU, serving as the head of the (KPU) and participatinKennedy Political Uniong in the College Democrats group. Through these roles, he met several influential people including Senator Howard Baker, Jr., Ramsey Clark, and Mo Udall. "To be able to have the ability to not only read about these people, but to have them there on your campus was a great highlight of my experience at AU," he remarked.
Almost all of McGovern's AU memories have to do with the people he met—including university staff, his fellow students, and the faculty. "The faculty at SPA are second to none. No university or college has a better faculty. They are very much engaged in what is happening around the world."
Even while at AU, McGovern was active on the hill interning with Senator George McGovern of South Dakota (no relation), whom he described as one of his best friends. Congressman McGovern continued working on the hill full time throughout graduate school as a senior aide for Representative Joe Moakley. McGovern was first sworn in as U.S. Representative for Massachusetts' 3rd Congressional District in 1997 and is currently serving his ninth term in Congress. McGovern serves as the second ranking Democrat on the House Rules Committee. He is also co-chair of both the Tom Lantos Human Rights Commission and the House Hunger Caucus.
As a leader on an array of progressive issues, he authored important legislation to increase Pell Grant funding to allow more students access to higher education, and was a strong proponent of healthcare reform. His legislative efforts included reducing the cost of home health care, giving patients the dignity to be cared for in their own homes with the help of medical professionals.
#MySpaHistory
"I'm proud of my time at SPA, and I'm grateful for the opportunity it gave me to meet some incredibly interesting people. I believed then – as I believe now – that public service is an honorable calling. And I'm confident SPA will continue to prepare its students for meaningful careers for at least another 80 years."