Alumni
#SPA80for80: Joe Vidulich, SPA/BA '08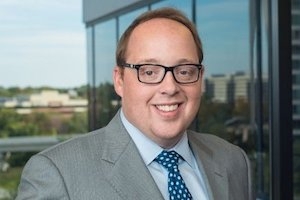 Joe Vidulich embodies Eagle pride.
A 2008 graduate of the School of Public Affairs, Vidulich maintains strong ties to the AU community as an advocate for alumni and students alike through the Alumni Board.
"I joined the Alumni Board because I want to make sure the AU alumni experience is just as good as – if not better than – the student experience, and show alumni that their time at AU doesn't end after when they receive their diploma," he said.
Recognizing the need to build a support system for student veterans, Vidulich helped shepherd a financial gift from D.C. area freemason's to established a graduate position to research best practices to support veterans in higher education.
Vidulich serves as the vice president of government relations for the Fairfax County Chamber of Commerce, which represents over 500,000 employees in Northern Virginia. He leads the chamber's efforts to advocate for pro-business policies in a number of key industries, including transportation, healthcare, and public-private partnerships. Building on his experiences as student body president, and an alumnus of SPA's Campaign Management Institute and Public Affairs and Advocacy Institute, Vidulich educates lawmakers and public officials on the importance of a robust business community.
"SPA taught me how to be an advocate for the causes I care about," said Vidulich. "The School of Public Affairs provides for its students the tools necessary to be successful in your professional life."
Another former student body president, Patrick Kelly, praised his predecessor. "There are very few individuals more selfless than Joe. American was made better by Joe when he was an undergrad and he continues to only do the same now as an alumnus."
#MySPAHistory
"I fell in love with the campus and the spirit of the community. I saw that SPA really believed that given the tools and the knowledge, you can change the world. Every day, I use the skills taught to me by SPA's faculty, some of the best experts in their fields, to advocate and shape policy to make a better Virginia for my companies and the people who work for those companies."