On Campus
#SPA80for80: Julian Bond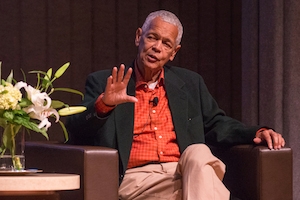 Julian Bond brings to the School of Public Affairs a proud history as a leader in the civil rights movement, a voice for social activism, and a facilitator of peace movements all across the country.
He was an early advocate of marriage equality. His most recent arrest was at the White House in opposition to the Keystone Pipeline.
Bond joined SPA in the 1990's as a distinguished adjunct professor of government. His classes—an honors course focusing on the oral history of the civil rights movement, and an advanced study of the politics of civil rights—are continuously filled with students excited to learn from an historic icon. 
He frequently engages with students outside of the classroom as well. Last autumn, for example, he joined National Association for the Advancement of Colored People (NAACP) CEO Benjamin Jealous for a University Honors Program "Tea Talk" to discuss the evolution of race relations in the United States. When one student compared Jealous to rock star Bono, Jealous responded, "If I'm Bono, then professor Bond is John Lennon."
Bond's involvement with the NAACP began in Atlanta, where he served as local branch president. He was elected chair of the NAACP's national board in 1998, a position that he held until 2010. 
A commitment to public service and championing civil rights began early in Bond's college career. As a student at Morehouse College, he helped found the Student Nonviolent Coordinating Committee (SNCC) and soon became its communications director. He served 20 years in the Georgia House and Georgia Senate, drafting more than 60 bills that became law. In 1968 he became the first African American nominated as Vice President of the United States by a major party before voluntarily withdrawing his name from the ballot because he was too young to potentially serve as president.
He has earned a wealth of accolades and written extensively throughout his career. Time magazine named him one of America's top 200 leaders. The Library of Congress named him a living legend. Bond has hosted America's Black Forum, Saturday Night Live and has narrated numerous documentaries, including the award-winning Eyes on the Prize series. He has commentated on NBC's Today Show and was the author of Viewpoint, a nationally syndicated newspaper column. A collection of his essays is published under the title A Time to Speak, A Time to Act. Other poems and articles have appeared in several publications, including The Nation, Life, and New York Times.
#MySPAHistory
"After teaching at many fine schools, the students I am closest to are those I met and taught at SPA. We have developed lasting and continuing relationships."