Alumni
#SPA80for80: Keith Thirion, SPA/BA '08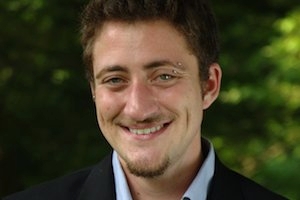 Keith Thirion has a long history of advocacy and leadership in fighting for social justice. 
Earlier this year, Thirion led the public education campaign supporting the Fairness for All Marylanders Act, which prohibits discrimination against transgender Marylanders, and went into effect on October 1, 2014. Many supporters of the legislation credit his activism alongside the hard work of leaders of Equality Maryland and transgender Marylanders for the law's passage.
Thirion, a transgender man, currently serves as the director of advocacy and programs for Equality Maryland, where he oversees public education programs and supports legislative initiatives to advance equality for LGBT Marylanders.
"He is the epitome of what SPA seeks to instill in its students: the blending of academics and action, theory and praxis," Briana Weadock, one of his advisors at SPA, said. "He tirelessly and selflessly embodies the motto, 'Ideas into action, action into service.'"
He served on the Steering Committee of the Maryland Coalition for Transgender Equality, a coalition of over 50 organizations working to advance equal rights for transgender Marylanders. His past work includes: lead organizer for Basic Rights Montgomery, the 2008 campaign to uphold Montgomery County's transgender anti-discrimination law;field organizer on Proposition 8 in Los Angeles;and 2006 summer organizing fellow with the National LGBTQ Task Force.
Thirion also worked for the Chesapeake Climate Action Network, where he managed the organizing team to advance renewable energy policies and fight carbon pollution in Virginia. His leadership contributed to victories such as defeating the largest proposed coal-fired power plant in Virginia, and drawing unprecedented public attention to the commonwealth's largest and dirtiest utility.
#MySPAHistory
"My time at AU, and the School of Public Affairs specifically, taught me that social change comes from effective advocacy within the political system combined with challenging what is politically possible, always in the service of those most vulnerable to discrimination and disenfranchisement in the political process," Thirion said. "Most of all I saw firsthand that academia furthers political activism, and activism furthers the impact of academia."