On Campus
#SPA80for80: Professor Elizabeth Suhay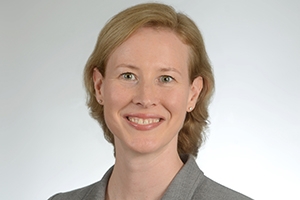 Liz Suhay joined the School of Public Affairs in the fall of 2014 as an assistant professor in the Department of Government. An expert in American politics, Suhay brings to her scholarship a unique curiosity about the formation of political opinions.
"I'm fascinated by Americans' political opinions because their origins—media, peers, personality, and values—are so varied and complex," said Suhay.
Her research often digs into the philosophical questions surrounding political identities and ideologies. In one provocative publication, "Does Biology Justify Ideology?" she questions underlying assumptions about political ideologues' beliefs about "nature vs. nurture." Unwilling to accept conventional wisdom, Suhay and co-author Toby Jayaratne uncover complex differences between political conservatives and liberals in this arena, building a nuanced understanding of the connections between citizens' views of government and their beliefs about the causes of human difference.
A frequent contributor at conferences and workshops, Suhay has presented her work to panels all across the country. Since 2010, she has presented her research at the American Political Science Association annual conference five times, including this last August in Washington, DC.
She is the author or co-author of five refereed journal articles and two invited contributions, which include: "Forging Bonds and Burning Bridges: Polarization and Incivility in Blog Discussions about Occupy Wall Street" in American Politics Research and "Explaining Group Influence: The Role of Identity and Emotion in Political Conformity and Polarization" in Political Behavior. She also is co-editor (with James N. Druckman) of "The Politics of Science: Political Values and the Production, Communication, and Reception of Scientific Knowledge," a forthcoming special issue of The Annals of the American Academy of Political and Social Science.
Suhay comes to SPA after serving as an assistant professor in the Department of Government and Law at Lafayette College, which included a year as a visiting scholar at the University of Pennsylvania's Annenberg School of Communication. She received both her BA and her PhD from the University of Michigan.
#MySPAHistory
"My time at SPA thus far has been incredibly rewarding…and busy! SPA is a perfect fit for me. As a professor and social scientist, I strive to teach well and produce high-quality research, but I also want to make sure my courses and research projects tackle pressing social and political issues."