On Campus
#SPA80for80: Professor Lynn Addington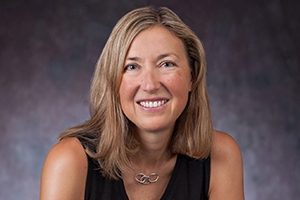 Lynn Addington studies crime by the numbers.
Her interest in crime data began in graduate school when she worked on a project to develop hate crime questions for the US Department of Justice's National Crime Victimization Survey. "Studying crime data and working to improve our measures of crime might not be 'hot topics' but this information provides essential foundational knowledge. Having accurate and complete crime statistics are critical for policymakers to evaluate programs, academics to assess theories, and the general public to better understand their risk for victimization."
Addington is now one of the nation's foremost experts in crime measurement. She currently is working directly with federal agencies on projects to improve our two primary sources of national crime statistics: the National Crime Victimization Survey and the Uniform Crime Reporting Program. She is completing a Visiting Fellowship with the US Department of Justice's Bureau of Justice Statistics where her project concerns redesigning the NCVS. She also serves as the only academic representative to the FBI's focus group supporting the UCR's National Incident-Based Reporting Program. Addington is a regular consultant on school crime surveys for the U.S. Department of Education.
In addition to her work with crime statistics, Addington studies issues surrounding violent victimization that include rape/sexual assault, school violence and homicide. Her work has been supported by research grants from the American Educational Research Association, American Statistical Association, Bureau of Justice Statistics, and National Institute of Justice. She also presented before the federal advisory committee that reviewed the military's responses to sexual assault.
Addington has an extensive publication record. She is the co-editor of an original volume of research entitled Understanding Crime Statistics: Revisiting the Divergence of the NCVS and UCR (Cambridge University Press, 2007). Her articles have appeared in a range of outlets spanning criminology, education, law, and sociology. In January 2015, she will begin a four-year term as editor of the journal Homicide Studies.
#MySPAHistory
"SPA provides an exciting and supportive environment for scholarship. I have capitalized on our DC location and become actively engaged in research that matters and has direct policy implications. SPA recognizes and encourages this work. SPA also is generating a teaching environment that facilitates undergraduate involvement in research projects and field experiences."