Achievements
#SPA80for80: Morgan Walton, SPA/MS '14 and Professor Jane Palmer, SPA/PhD '13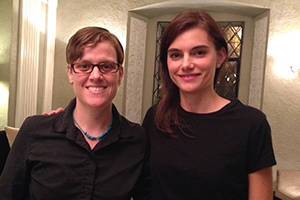 Morgan Walton, SPA/MS '14, first met Jane Palmer, SPA/PhD '13, professorial lecturer of public administration and policy, as a student in Palmer's class on domestic violence. Following the course, the two decided to work together on an article documenting the national legal support frameworks for sexual assault victims as part of an independent study.
Their work, "Legal Considerations on a Sexual Assault Victim's Right to an Advocate," was published in its entirety as the lead article in the latest issue of Sexual Assault Report.
After a series of conversations with Sherelle Hessell Gordon, the executive director of the DC Rape Crisis Center, Walton and Palmer sought to understand the national scope of the role of advocates in sexual assault investigations to support DCRCC's legislative advocacy efforts related to the Sexual Assault Victims Rights Amendment Act (SAVRAA).
"Law enforcement and SANEs [forensic sexual assault nurse examiners] have distinct responsibilities in the criminal justice process, and the presence of a sexual assault advocate may be beneficial to both parties," write Walton and Palmer. "Advocates can provide a victim with information on police and exam procedures…and ensure the victim's questions and concerns are addressed."
Palmer began her work at SPA when she was a doctoral student in Justice, Law & Society in 2009. A social work professional working to prevent and reduce the impact of sexual and domestic abuse, Palmer knew SPA was the best fit for her goal to expand her education. "I was looking for a program that would support my commitment to interdisciplinary inquiry and challenge me academically. When I came across SPA, I knew it was where I wanted to go so I did not apply to any other doctoral programs," she said. After graduating in May 2013, she joined SPA as a full-time professorial lecturer. Palmer is also the director of AU's Community-Based Research Scholars program.
Walton, who finished her master's in 2014, largely focused her graduate studies on gender-based violence. In April 2014, she was the graduate student recipient of the Alice Paul Award, an accolade given in honor of the woman who led the campaign for women's suffrage in the early 20th century and the fight against gender discrimination. Palmer also received the award in 2013.
#MySPAHistory
"Professor Palmer is a relentless supporter of students and their work," says Walton. "We communicated well, and while I looked to her experience for edits and advice, she gave me a great deal of freedom to conduct research and build the article."
"It was a joy to support Morgan on this article in collaboration with the DC Rape Crisis Center," says Palmer. "In addition, it was exciting to go to a SAVRAA hearing with Morgan to see the real world implications of this research."