Alumni
#SPA80for80: Muriel Bowser, SPA/MPP '00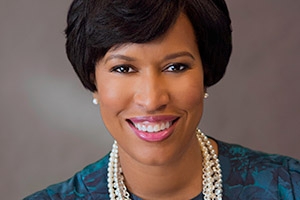 On November 4, 2014, SPA graduate Muriel Bowser was elected as the seventh, and only second female, mayor of the District of Columbia.
Bowser graduated from SPA in 2000 with a Master of Public Policy. A few years later, she began her career in local politics, serving in a seat on DC's Advisory Neighborhood Council. In 2007, Bowser was elected War 4 Council member in a special election. She was re-elected in 2008, and again in 2012.
Throughout her career, Bowser says she has focused her attention on enhancing the lives of residents District-wide. She was selected by her colleagues on the Council as Chairwoman of the Committee on Economic Development and created more than 5,000 units of affordable housing, passed legislation to build a new soccer stadium and secured the best portion of the Walter Reed campus for DC. Previously, as Chairwoman of the Committee on Government Operations, Bowser worked with her colleagues to pass comprehensive ethics reform in the District, improved the safety and efficiency of the Metro system, and increased transparency in government contracting. As Chair of the Committee on Libraries, Parks and Recreation and the Committee on Public Services and Consumer Affairs, Muriel championed the causes of increasing the revenue generating potential of public spaces, curbed bullying in schools and recreation centers, and created consumer protections for homeowners facing foreclosure. As Chair of the Washington Metropolitan Transit Authority (Metro) Board's Planning, Program, and Real Estate Committee, Muriel led the adoption of comprehensive revisions to joint development policies that promote more transparency, competition, higher quality transit oriented development, and include Metro's first ever affordable housing policy. She also previously served as Chair of the regional Metropolitan Washington Council of Governments' Transportation Planning Board.
She has been awarded the Democratic State Committee's Legislator of the Year Award (2012), the Phyllis Campbell Newsome Public Policy Leadership Award (2012), the NoMa Business Improvement District Public Sector Award (2012) and the Alice Paul Award (2014) from the School of Public Affairs' Women & Politics Institute.
Bowser, a native Washingtonian, earned a Bachelor of Arts degree in History from Chatham College and a Master's degree in Public Policy from American University.
#MySPAHistory
"I learned great deal about using quantitative analysis to get better results in government."