Alumni
#SPA80for80: Pablo Sanabria, SPA/PhD '12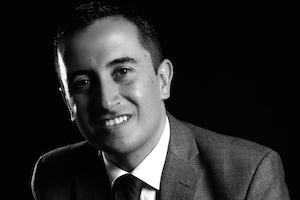 Pablo Sanabria is educating Colombia's future leaders and is on a mission to modernize Colombia's public sector workforce.
In 2012, after finishing his PhD in three years, Sanabria joined the faculty of the Alberto Lleras Camargo School of Government at the University of los Andes, Colombia's top-ranked university and one of South America's top five. Last year, Sanabria won a $700,000 grant from the government of Colombia to design the framework of a comprehensive policy that promotes innovative and effective human resource management in the public sector.
Sanabria knows firsthand the lessons and challenges of a service-driven career path. After earning a master's degree at the London School of Economics, he spent several years in the public, nonprofit, and private sectors before returning to academia, where he felt he could have the greatest impact.
"I realized that I could have a multiplying effect, especially by helping educate Colombia's future leaders," said Sanabria, who is designing a brand new master in public management at the university and serves on the board of directors of the International Research Society for Public Management (IRSPM), and the Inter-American Network of Public Administration Education (INPAE), in addition to teaching and research.
Sanabria hopes to have the same impact on his students that AU had on his career trajectory and beliefs about public service.
#MySPAHistory
"SPA's ideals of serving society and putting ideas into action have shaped me personally and professionally. SPA is a unique place to learn and produce knowledge, with passion and rigor, about public affairs."