On Campus
#SPA80for80: Patrick Kelly, SPA/BA '15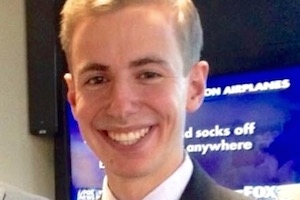 As a senior in the School of Public Affairs, Patrick Kelly has taken advantage of all that AU has to offer.
Kelly currently works as an intern for NBC's Sunday morning talk show "Meet the Press," where he conducts political research, assisting in digital production and show logistics. Previously, Kelly worked on Capitol Hill as a press intern for Sen. Jon Tester (D-MT). Next semester, he will be working with the Department of Commerce, honing his skills in speech writing.
In addition to his work off-campus, Kelly has played an active role on campus. One classmate said, "He is always present – especially in the Ward Circle Building – and serves as a familiar, kind and warm face for everyone in the AU community."
In 2013, Kelly was elected as President of the AU student government by one of the largest margins in school history. During his time in that role, he worked to establish the Guide to Student Rights and Responsibilities, and he guided the first change to the AU Student Activity Fee in twelve years. "For a lot of students, the clubs and organizations we are a part of allow us to take what we learn inside the classroom to the next level," said Kelly. "So redefining a Student Activity Fee that reflects our values was a top priority for me and through campus collaboration we got it done."
This year, Kelly is serving as Co-director for Founder's Week, which celebrates AU's establishment by an act of Congress in 1893.
Kelly is expected to graduate in Spring 2015 with a Bachelor of Arts in political science, with a concentration in American government, and minors in communications and education policy. After graduation, he hopes to pursue a career in political communications in DC or in his hometown of Chicago. Wherever he lands, he wants to play a role at AU serving as an active alumni. "It's my hope that I can give back to a place that has given so much to me during last four years."
#MySPAHistory
"The classes I have taken and relationships I have forged with students and professors alike at SPA have allowed me to become the person I always wanted to be when I first stepped foot on campus four years ago."