Alumni
#SPA80for80: Phil Mendelson, SPA/BA '81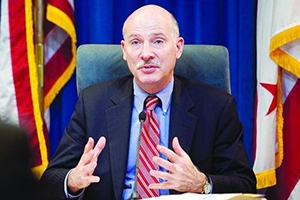 Phil Mendelson was raised in a family where public service is a core value. His mother was a national crusader for nursing home reform during the 1960s-1980s, and his grandmother was appointed to the Federal Office of Price Administration by President Roosevelt. From those roots, Mendelson has built a legacy of public service leading up to his current position as chairman of the Council of the District of Columbia (DC Council).
Mendelson's participation in politics began in 1975, the year after he left SGPA (now SPA). As a member of the McLean Gardens Residents Association, Mendelson battled against efforts to destroy the housing complex. He won his first elected office in 1979, serving on the Advisory Neighborhood Commission (ANC), an office he would lead as commissioner before joining the DC Council.
Elected as an at-large councilmember in 1998, Mendelson engaged in oversight of the District's public safety agencies, as well as legislation impacting criminal laws in DC. In 2012, he was elected overwhelmingly to the chairmanship of the DC Council.
"What I like about being on the Council, and as chair of the Council," he said, "is the ability to not only work on important policy issues, but also the day-to-day interaction with citizens. Many times I'm able to help somebody, and it's very gratifying and rewarding."
The DC Council has witnessed the approval of a wealth of significant bills under Mendelson's leadership. Among the bills were reform of, and updates to, the District's gun laws; marriage equality; medical marijuana legislation; the establishment of an elected Attorney General; an overhaul of DC's drunk driving laws and a significant increase to the minimum wage. He has imbued throughout his leadership a philosophy that Washington, DC, as the nation's capital, should be a model of service delivery–in public education, public safety, and public health.
"A lot of folks ask me why I think DC is the greatest city in the world and there are a number of reasons I can give," Mendelson advances, praising the diversity, economic vitality, and social vibrancy of the city he publicly serves. "It's a great place to live, work, and play."
#MySPAHistory
"Although I was scheduled to graduate in 1974 with a BA in political science, I actually had to take longer because I spent too much of my time active in the Student Government. I ran for Student Association Comptroller, and lost, then became active with what was then called the Inter Club Council. There were many lessons learned then, that are still useful to me today."