On Campus
#SPA80for80: Professor Richard Bennett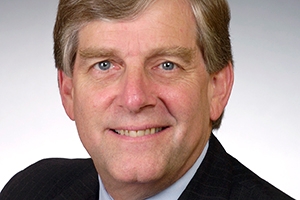 Students, faculty, and academicians alike highly regard SPA Professor Richard Bennett's scholarship in criminal justice and criminology. He has been named one of the 25 top criminal justice professors in the United States, and in 2012 he was the recipient of the Outstanding Mentor Award from the Academy of Criminal Justice Sciences.
At the School of Public Affairs, Bennett has offered students valuable knowledge and expertise, helping them succeed in career opportunities. When Joshua Ederheimer, SPA/BA '95, became assistant chief of Washington Metro Police Department, he praised Bennett's teaching. ""You can blame Dick Bennett for me being where I am today," he said. "I took his class, and . . . I was hooked."
Bennett came to American University in 1979. He brought with him an expertise in the areas of comparative criminology, comparative criminal justice, and police organization and procedures. As chair of the department of justice, law, and criminology (JLC), Bennett works closely with faculty and students to build new programs, strengthen existing ones, and to manage departmental affairs and to be the face of JLC to the rest of the University and the public.. He also teaches classes ranging from a first-year intro course, Systems of Justice, to managing doctoral dissertations for PhD students in JLC. 
He has published works in highly regarded journals including Social Forces, Criminology, Justice Quarterly, Police Quarterly and Sociological Quarterly. Additionally, he serves on the editorial board of various criminal justice journals and is the past president of the Academy of Criminal Justice Sciences. 
Before becoming an academic expert in criminology, Bennett gained practical experience in the field. He worked as a patrolman, criminal investigator, and deputy sheriff before earning his PhD in Sociology and Criminal Justice from Washington State University in 1976. 
#MySPAHistory
"I have spent the past 35 years as a faculty member and administrator at the School of Public Affairs because of the terrific students we attract, the collegiality of our faculty and an administration that supports my comparative research."