On Campus
#SPA80for80: Professor Bob Durant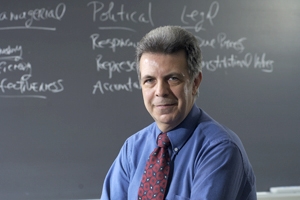 In an era of bureaucrat bashing, Professor Bob Durant has challenged students, scholars, and policymakers to see the nobility of a career as a public manager.
In his new book, Why Public Service Matters, Durant urges readers to develop "a fuller appreciation for the critical role that public managers have played and must continue to play if America is ever to reach its full promise as a democratic republic."
Durant came to SPA in 2003 as a professor of public administration and policy with expertise in federal executive branch politics; public management; and environmental and natural resources policy. He has published nine books, multiple chapters in edited volumes, and 120 articles in leading academic presses and journals in public administration, public policy, and political science.
In 2013 and 2012, Durant received the John Gaus Award and the Dwight Waldo Award, respectively, for a lifetime of exemplary scholarship and service to the field of public administration. He is a fellow in the National Academy of Public Administration.
"Bob is one of the most active researchers of his generation, and his work is critical to those who study policy and reform. As his colleagues, we are inspired by his high level of accomplishment and grateful for the mentorship he provides to his junior colleagues and students," said Barbara Romzek, dean of SPA.
Durant began his studies at Maryville College in Tennessee and went on to earn an MPA and PhD in political science from the University of Tennessee. His work has garnered numerous honors, including the Gladys M. Kammerer Award from the American Political Science Association for the best book published in 1992 on U.S. national policy; the 2000 Best Book Award from the Section on Public and Nonprofit Management of the Academy of Management; and the Charles H. Levine Award given jointly by the National Association of Schools of Public Affairs and Administration (NASPAA) and the American Society for Public Administration. Consistently a favorite among SPA students, Durant has earned seven teaching awards, including the 2007 Outstanding Teacher Award at SPA and the Leslie A. Whittington Award for Teaching Excellence from NASPAA.
Durant, who also served as chair of the Department of Public Administration and Policy, will retire from AU on December 31 after a distinguished 30-year career in academia.
#MySPAHistory
"We've really moved as a department and as a field from the notion of government per se, and more toward governance. What hasn't changed is that the students at American University come here with public service motivation. That never dies."