On Campus
#SPA80for80: Sarah McBride, SPA/BA '13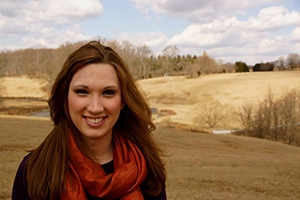 Sarah McBride is a remarkable example of what SPA's young alumni can achieve. From being the first openly transgender woman to work for the White House, to being instrumental in the passage of Delaware's Gender Identity Nondiscrimination Act, Sarah is committed to working toward equality for all.
Sarah has loved politics since she was a teenager, and she became actively involved in campaigns in her home state of Delaware in 2006. Coming to AU was the right choice for her politically-minded career, she says, because her time at AU "made my love of politics less about 'politics' and more about what politics can do."
As president of AU's Student Government for the 2011-12 academic year, Sarah championed student interests, including gender neutral housing and encouraging changes in AU's insurance coverage for transgender students.
Sarah credits fellow AU students and alumni for instilling in her "a deep passion for social justice." Since graduating, Sarah has continued to work with the university in promoting equality among students. Along with the Center for Diversity and Inclusion, Sarah helped champion a new sexuality and queer studies minor at AU, which debuted in fall 2013.
She says that she feels a "deep responsibility" to give back to the school that has given her so much.
#MySPAHistory
"I wouldn't be the person I am today without the School of Public Affairs and without my experience there. My time at AU, the relationships I developed, and the lessons I learned allowed me to live authentically," Sarah said. "If America was a little more like American, things would be a lot better for people who are currently struggling."