Alumni
#SPA80for80: Stephen Bronskill, SPA/BA '13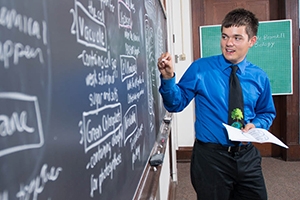 Stephen Bronskill joined Teach for America to better understand how the policies he learned about during his time at SPA actually affect people.
"While my abilities as a teacher are limited," Bronskill said, "it is inspiring to watch my students dream big even under profoundly difficult circumstances. I am privileged to work with veteran teachers and community leaders who have dedicated their lives to expand opportunities for young people here. "
Bronskill teaches biology at Pine Bluff High School in Arkansas, a state in which only 19% of students meet ACT College Readiness Standards – the nation's lowest rate.
His four years at AU's School of Public Affairs reflected his desire to combine the theoretical with the practical. As a first-year student at AU, he created the Community Service Coalition (CSC) after hearing journalist Tom Brokaw describe the need for civilian leadership academies. The CSC has grown into a thriving coalition of 40 student groups that makes use of varied resources for community service projects. Bronskill also held a number of internships -- including an internship at the White House -- and he also studied environmental issues for a semester abroad in India.
Bronskill's work at AU garnered him a number of awards upon graduation, including the President's Award, AU's highest undergraduate honor; a national Udall Scholarship for his commitment to environmentalism; and the Stafford H. Cassell Award for his dedication to the university. He was also a national finalist for a Truman Scholarship for public service.
Bronskill, a member of University College and SPA's Leadership Program, graduated with degrees in political science and environmental studies.
#MySPAHistory
"It is humbling to see the impressive public service performed by current and former SPA students. I am thankful that so many from AU are working toward a more equitable future for kids no matter where you are born – from the Arkansas Delta to the nation's capital."