On Campus
#SPA80for80: Professor Taryn Morrissey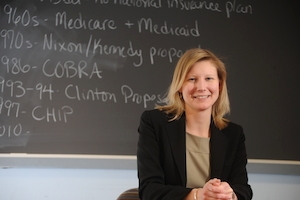 Taryn Morrissey, assistant professor at the School of Public Affairs, works to examine and improve public policies for vulnerable children.
From January 2013 to August 2014, she served as senior advisor to the deputy assistant secretary for human services policy in the Office of the Assistant Secretary for Planning and Evaluation (ASPE) at the Department of Health and Human Services (HHS). While at HHS, Morrissey helped to craft and implement the President's Early Learning and Ladders-to-Opportunity Initiatives, strengthening and expanding early education and anti-poverty programs.
Back on campus, Morrissey recently led a group of AU researchers in a study of the relationship between high food prices for fresh fruits and vegetables and elevated Body Mass Index (BMI) levels in young children in low- and middle-income households.
"There is a small, but significant, association between the prices of fruit and vegetables and higher child BMI," Morrissey said about the research, which was published in the journal Pediatrics in February 2014.
In 2011, Morrissey and colleagues from the University of Chicago and Cornell University released a study on associations between childhood obesity and mothers' work schedules that raised international media interests and concerns.
She saw the results as an opportunity to understand the underlying issue of work-family balance. "Parents face constraints of long work hours, varying schedules, and family demands that make food shopping, meal preparation, and other activities difficult," she explained. "If we can shed light on these constraints and the many factors that contribute to child BMI, we can help parents balance work and family demands and promote healthy weight among their children."
Morrissey earned a PhD in developmental psychology from Cornell University in 2008, with a minor in social and health systems planning. She was a 2008-2009 American Association for the Advancement of Science (AAAS)/Society for Research in Child Development (SRCD) Congressional Fellow, and was subsequently hired as a health policy advisor on the staff of the U.S. Senate Health, Education, Labor, and Pensions (HELP) Committee, first for Sen. Edward Kennedy and then for Sen. Tom Harkin, where she helped craft the Affordable Care Act (ACA).
#MySPAHistory
"One of the many virtues of an SPA education is that the school truly values real-world policy and administrative experience among its faculty and students—and produces students who go on to make meaningful impacts."