Alumni
#SPA80for80: Terry Szuplat, SPA/BA '95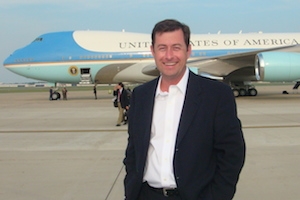 Communication is key, especially for Terry Szuplat.
As the senior director for speechwriting at the National Security Council for President Obama, Szuplat is tasked every day with drafting clear and consistent language for the president to use as he communicates with foreign audiences, military and veterans groups, and, most importantly, the American people.
"It's a very unique form of writing," says Szuplat. "Sometimes it's like writing a play. You're looking to create moments where the speaker connects with the audience, intellectually and emotionally."
Szuplat began his career in public service directly after graduating from the School of Public Affairs in 1995. He landed a position working for the Congressional Commission on Protecting and Reducing Government Secrecy, a job that had him travelling to agencies like the CIA and the Pentagon to investigate methods of declassification.
"I don't think I could possibly be doing anything more beneficial to me in the long-run, just out of school," Szuplat told AU student newspaper, The Eagle, in fall 1995 when asked about his post-grad career.
Szuplat transitioned smoothly into the new position after interning at the White House speechwriting office during the previous spring semester at the School of Public Affairs. He went on to serve as the chief speechwriter for the Secretary of Defense. Nearly 20 years later, he is hard at work again in the White House, where he directly supports the president. As one of President Obama's speechwriters, Szuplat and his colleagues sometimes brainstorm ideas with the president, constantly editing and rewriting in order to find just the right words.
In 1999, Szuplat was named one of 100 people to watch this century by Washingtonian magazine. Prior to serving in the White House, he works in public affairs for the Senate Armed Services Commission writing articles and statements.
#MySPAHistory
"I simply wouldn't be where I am today, without AU and SPA. As a senior at AU, I had the opportunity to intern at the White House speechwriting office—the very office I serve in today. My professors at SPA had a huge influence on how I think about government and public service. Even now, I still crack open my old course books for ideas and inspiration when drafting remarks for the President."