Alumni
#SPA80for80: Valerie Merahn Simon, SPA/BA '94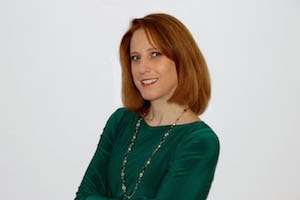 Valerie Merahn Simon arrived at American University intending to pursue a career in law. Her decision to major in Interdisciplinary Studies (Communications, Law, Economics and Government) and her participation in the inaugural class of the SPA Dean's Leadership program expanded her skill sets and exposed Simon to career options she had never before considered.
Following her passion for public affairs and policy, Simon began working in the National Press Building for a media monitoring service, tracking and analyzing the news. Over the course of the next 10 years, she rose to become senior vice president of BurrellesLuce and a member of the 126-year-old company's executive committee.
Simon currently leads the in-house advertising agency at Plymouth Rock Assurance where she is responsible for all marketing communications, brand management, advertising, market research, public relations, content marketing, video production and events. Under her leadership, the team has achieved a GUINNESS WORLD RECORDS® title for the Most Pledges to a Safety Campaign as part of company's efforts to stop distracted driving, A Telly Award and 5 MarCom awards.
"I am particularly grateful for the mentors who offered me guidance during my time at AU, including President Kerwin, who was then dean of SPA, and Bill Sweeney, a founder and director of the Campaign Management Institute at American University," said Simon.
Their influence inspired her to continue the tradition of mentoring students. In 2009, Simon became the co-founder of #PRStudChat, a dynamic community of public relations professionals, educators and students who share a common goal; to leverage social media in a meaningful way that will help bridge the gap between the academic and professional environments. The trending Twitter chat recently celebrated a 5th anniversary, and has included professors and students from universities around the globe, as well as industry professionals such as Wikipedia founder Jimmy Wales, former Kodak CMO Jeffrey Hayzlett, and digital leader Brian Solis.
#MySPAHistory
"As a CLEG major, my economics courses helped me to develop an appreciation for data and analysis and gave me confidence in areas I had never before embraced. My communications courses honed my abilities to use that data and analysis to create and share powerful stories. Beyond the development of skill sets, the School of Public Affairs instilled in me a commitment to service, an enthusiasm for learning and the certainty that I can, and will, make a difference."