Alumni
#SPA80for80: Yuval Levin, SPA/BA '99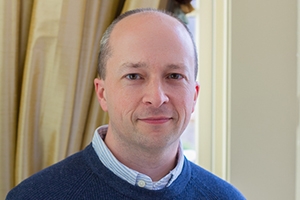 Yuval Levin is an accomplished political thinker and prolific writer who found his niche in Washington, DC during his undergrad studies at American University's School of Public Affairs.
After graduating summa cum laude in 1999, he served as a congressional staffer, working for Congressmen Bob Franks and Newt Gingrich. Levin later excelled in his graduate work at the University of Chicago, where he received his PhD.
During and after his graduate studies, Levin maintained his connections to DC, serving as a member of the White House domestic policy staff (under President George W. Bush) and as executive director of the President's Council on Bioethics. Levin left the White House in 2006 to become the Hertog Fellow at the Ethics and Public Policy Center, a DC-based think tank.
In fall 2009, Levin founded National Affairs, a quarterly journal of essays about domestic policy, political economy, society, culture, and political thought. He currently serves as editor of National Affairs, senior editor of the New Atlantis, and a contributing editor to National Review and the Weekly Standard. His essays and articles have also appeared in New York Times, the Wall Street Journal, and the Washington Post. He is the author of three books, including The Great Debate: Edmund Burke, Thomas Paine, and the Birth of Right and Left (2013), which explores our long-standing political divide through the contrasting philosophies of two late-18th century political theorists. This fall, Politico ranked Levin at number 15 on its list of the 50 "thinkers, doers and dreamers who really matter in this age of gridlock and dysfunction."
#MySPAHistory
"SPA did an extraordinary job of making use of Washington for the benefit of its students: letting us hear from people in power, letting us get to know (as professors and mentors) individuals with a wealth of practical experience, and letting us actually work and intern in politics, government, and the endless array of organizations in the city. The city is a second classroom for SPA students, and it's integrated seamlessly with the first."