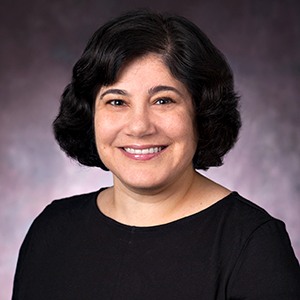 At the School of Public Affairs at American University, we approach the 2023-24 academic year with enthusiasm and hope. The challenges of the pandemic have left us more agile, more creative, and better-connected: SPA is more prepared than ever to tackle the most pressing public affairs challenges of today.
It is also a time of change at SPA. Vicky Wilkins is taking on a wider role at AU, serving as our acting provost, and I have stepped in to lead SPA. I was motivated to take on this responsibility because I am inspired by the optimism and resilience that drives faculty and staff. We continue to build a community and culture of excellence, which transforms the student experience through personalized teaching and experiential learning; empowers those who seek knowledge to conduct and produce research; and facilitates engagement and collaboration between the academic and policy-planning spheres. We also remain dedicated to protecting democratic institutions, fostering civil discourse in the political sphere, and training the next generation of public servants and leaders.
This mission inspires SPA students, faculty, and staff to accomplish incredible things. We are thrilled to share some highlights with you:
Strengthening our Commitment to Diversity: SPA continues to evolve to a more diverse institution, with an active Diversity and Inclusion Committee. In May 2023, our second annual Summer Diversity Academy hosted PhD students and scholars underrepresented among public affairs faculty, offering quality feedback on research projects and career and academic mentoring. In 2022-23, we welcomed a diverse class of new faculty, including Valentina Duque, Rae Jereza, Suleyman Ozeren, Sanja Pesek, Ali Valenzuela, Andrea Vilan, Jhacova Williams, and postdoctoral fellow William T. Jackson.
Growing our Centers of Research: SPA is home to 13 research centers and institutes, specializing on policy matters as varied as the environment, urban development, Congress and the Presidency, foreign and domestic extremism, justice-related initiatives, and data science. We're also growing the sponsored research of these centers through our Washington Institute for Public Affairs Research, which has increased total awards to SPA by more than 50% since 2020-21. To learn more about our centers and institutes, and to follow them on social media to stay up to date on their work, join us on SPA's social media hub.
Leading in Our Fields: SPA is proud to host to four academic journals: the Journal of Policy Analysis and Management (editor, Erdal Tekin), Political Analysis (editor, Jeff Gill), Nonprofit Management & Leadership Journal (editor, Lewis Faulk), and Congress and the Presidency (editor, Jeffrey Crouch).
In addition, we are proud to partner on several well-received podcasts with growing audiences: JPAM's A Closer Look (hosted by SPA's Seth Gershenson and Erdal Tekin), Mission is Possible (hosted in partnership with Guidehouse), Mind the Teacher (also hosted by Seth Gershenson), and Politics and the Humanities (hosted by SPA's Thomas Merrill).
Addressing the Tough Questions: The range and quality of SPA scholars, with expertise on criminal justice, terrorism, national security, political violence, political participation, bipartisanship, and public administration and policy, distinguish us from other institutions.
Our faculty firepower allows us to address the most critical challenges of our time—and to take action to change things for the better. Likewise, our commitment to translating research for public engagement ensures us a place in the national conversation: our esteemed faculty are consulted by the most prestigious media outlets. Current faculty areas of focus include:
Examining health and social outcomes for LGBTQ+ Americans
Understanding the role of social media in promoting or foreclosing political violence
Studying how pollution impairs juvenile cognitive development
Decreasing racial health disparities
Addressing the opioid epidemic
Examining how long-term care facilities can improve management to protect residents
Designing a criminal justice system that promotes justice
Addressing social and institutional structures that facilitate bias and systemic racism
Of course, this is just a sample of our work. We invite you to search our site and take a closer look at what is new at SPA.
Sincerely,
Alison Jacknowitz
Interim Dean, American University, School of Public Affairs
$8.1M
in external funding during the last academic year, up from $6.6M from the year before
7,500 plus
SPA media mentions increased by more than 50% in a two-year span