Questions?
SPA: Graduate Admissions
(202) 885-6230
spagrad@american.edu
Ward Circle Building, Room 306


Jacqueline Linde
Assistant Dean

Brenda Manley
Director of Graduate Admissions
Mailing Address
International Student Admission Requirements

1. Original Transcripts or Academic Records
Required with all courses taken and grades and credentials received. Transcripts need to be issued by the appropriate records office of the university and must be stamped and sealed.

Degree Confirmation: If the transcripts do not indicate the title of the degree and the date it was conferred, an attested copy of the original diploma is also required.

English Translations: If the original transcripts or degree confirmation are not in English, English translations must be provided. Translations must come from recognized bodies such as university, embassy, overseas Education USA Advising Centers, or other certified translation agencies. Translations alone or unattested copies of any document will not be accepted.

Transcript Evaluation: If you attended a non-U.S. institution, one of our evaluators will do an assessment of your foreign transcripts and credential(s). External transcript and credential evaluations will not be accepted.
2. CFIS
The Certification of Finances for International Students (CFIS) is not required for the review process at the School of Public Affairs. The CFIS is required if the student is admitted. Please indicate clearly on the form the type of visa you plan to obtain for your studies in American University and your current visa type if applicable. If you are pending U.S. permanent resident or asylum status, please indicate on the form accordingly.

3. Release of Immigration Record to American University
This form is required of international students who currently hold an I-20 from a different U.S. institution. This form must be completed by both the student and the student's current International Student Advisor.
4. Immigration and Financial Documents
If you plan to study at American University on an F-1 student visa, you will need an immigration document, the I-20 form, issued by American University's International Student and Scholar Services (ISSS). To study on a J-1 visa, you will need a DS-2019 form issued by your financial sponsor. If your sponsor does not issue DS-2019 documents, it will be issued by ISSS.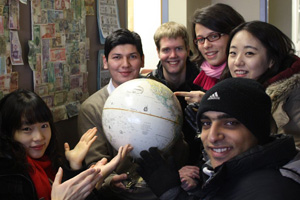 5. Official Test Scores
Official GRE test scores are required for all traditional degree programs at the School of Public Affairs. The GRE may be waived for applicants to the MPA and MPP programs who have 8 years or more of related work experience. LSAT scores may be substituted for MSJ, MPA, and MPP. GMAT may be substituted for MPA and MPP. Please have GMAT scores sent to the Kogod School of Business. There are no other exceptions.
The average GRE scores are 569 for Verbal, 639 for Quantitative, and 4.6 for Analytical.
The SPA institution code for GRE score reporting is 5733. There is no department code.
Required of international students whose native language is not English AND who do not hold a degree from a U.S. accredited college/institution.
Minimum score requirement: 100 on the IBT test, 250 on computer-based test, and 600 on paper-based test.
The SPA institution code for TOEFL score reporting is 5007. There is no department code.
Can be used in lieu of the TOEFL
Minimum score requirement: 7.0
The SPA institution code for TOEFL score reporting is 5007. There is no department code.
Can be used in lieu of the TOEFL
Minimum score requirement: 68
Demonstrating Financial Ability
All students must be able to demonstrate financial ability to pay for at least one year of academic and living expenses before being issued an I-20. These financial documents will also be required at the U.S. Embassy or Consulate when you apply for your visa. All financial documents must show available funds and must be dated within the past three months in order to be considered valid. Appropriate documents reflecting financial ability include, but are not limited to, the following:
Official Bank Statement, stamped and signed by a bank official (no more than 3 months old)
Account summary or summary of liquid assets (no more than 3 months old)
An individual sponsor who is a U.S. citizen or U.S. Permanent Resident must submit an I-134 Affidavit of Support with financial documents
An individual sponsor who is not a US citizen or U.S. Permanent Resident must submit a notarized letter of sponsorship (including duration, amount, and nature of sponsorship) with financial documents
Scholarship letter from sponsoring organization outlining dates, amount, and terms of sponsorship
American University scholarship or graduate merit award letter
The total amount international students will need to demonstrate on their financial documents for Academic Year 2014-2015 is $57,102. This amount is projected based on current economic conditions and includes estimated costs for room and board, books, health insurance, transportation, and mandatory fees. An increase of 5-7% for each succeeding academic year should be anticipated.