Government & Politics
New Role for Former Clinton Legislative Affairs Director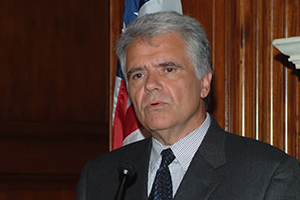 American University's Center for Congressional and Presidential Studies announces the appointment of Patrick Griffin, former assistant to the president and director of legislative affairs to President Bill Clinton, as associate director for public policy.
Griffin, an expert on advocacy, lobbying reform and the legislative process, will develop new public policy education programs including forums, conferences, and training programs. He is currently planning a forum to be held at the start of the new Congress to bring together senior officials from Congress and the Executive Office to explore and offer lessons for governing during a divided government.
For 12 years, Griffin has been a congressional scholar in residence at American University and currently serves as the academic director for AU's Public Affairs and Advocacy Institute.
"Lobbying and education policy will be important issues to explore as the 2012 campaign season unfolds," said James A. Thurber, director of AU's Center for Congressional and Presidential Studies. "Patrick Griffin brings a keen knowledge of the legislative process that will enable scholars and practitioners explore Washington's ever changing political landscape."
Griffin has 30 years of experience ranging from Capitol Hill and the White House to the private sector. Since 2005, Griffin has been a partner at Griffin/Williams, a management consulting firm specializing in developmental transitions and organizational crises in politics. His public service career includes serving as senior policy and political advisor to two Senate Democratic leaders—Senator Robert C. Byrd (D-WV) and Senator Tom Daschle (D-SD). In the private sector, Griffin was co-founder and president of Griffin Johnson, Madigan, and Peck, a government relations firm that designs and implements legislative strategies for both profit and non-profit organizations.
The Center for Congressional and Presidential Studies is a center within the School of Public Affairs that provides an integrated teaching, research, and study program focusing on Congress, the presidency, and the interactions of these two basic American institutions.
Established in 1979, the center provides a scholarly organization uniquely able to draw on its Washington, DC location in the very heart of the events shaping Congress and the presidency.